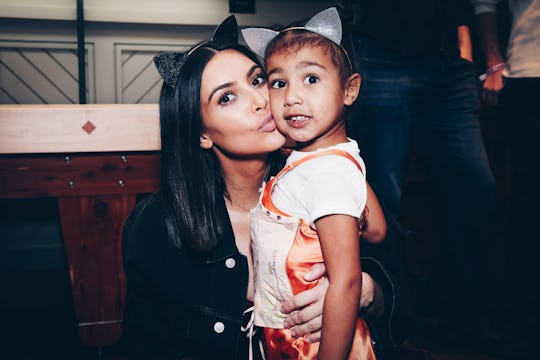 Handout/Getty Images Entertainment/Getty Images
Kim Kardashian's Kid's Line Is Exclusively Sold Online
If you've been keeping up with the Kardashians, you've probably already heard about Kim Kardashian and Kanye West's clothing line for children, which officially dropped last week. According to Kardashian, though, the current stock at Kids Supply is almost all gone, so if you want your child to look like the next North or Saint West, you'll want to grab a mini choker or baby bomber jacket ASAP. Wondering how to do to that or which stores carry Kim Kardashian's children's line? You're in luck — West and Kardashian have kept shopping the Kids Supply line super simple.
According to Vogue, Kids Supply is available exclusively online, so all you have to do to shop Kardashian's children's line is visit the Kids Supply website. There's a size chart for convenient sizing, so all you have to do is select a size and check out. There's only a handful of clothing options available at the moment (and four of the 16 options are caps and chokers), so you don't have to worry about picking between hundreds of items for your first purchase.
Currently, everything is available for pre-order, so it will be another three to five weeks before the orders ship, according to the website. A few items — such as the Calabasas thermal set — have already sold out, but interested customers can enter their emails for updates on stock.
"TheKidsSupply has been what we've been working on for a long time. I'm so excited about this!" Kardashian tweeted last week. She continued in separate tweets:
For the past few years Kanye and I have made almost all of our kids clothes and we have collaborated on a new kids line. ... All of my friends would ask where we get our kids clothes so now they will be available!
If you're wondering just how much the cute, mini-Yeezy clothes will set you back, get ready to shell out: Kids Supply prices range between $22, for a choker, to $240 for a reversible silk bomber. If you're looking for a few more options, lower prices, or the ability to try before you buy, you can always shop the Kardashian Kids line — a joint effort between the Kardashian sisters — at Toys "R" Us, Nordstrom, Zappos, Hudson's Bay, or Lord & Taylor.
If you want the definitive North or Saint West look for your kid, however, you'll probably be into Kids Supply. There's no word on whether the clothing line will restock anything sold out or simply replace the item with something new, though, so make sure you get shopping soon.