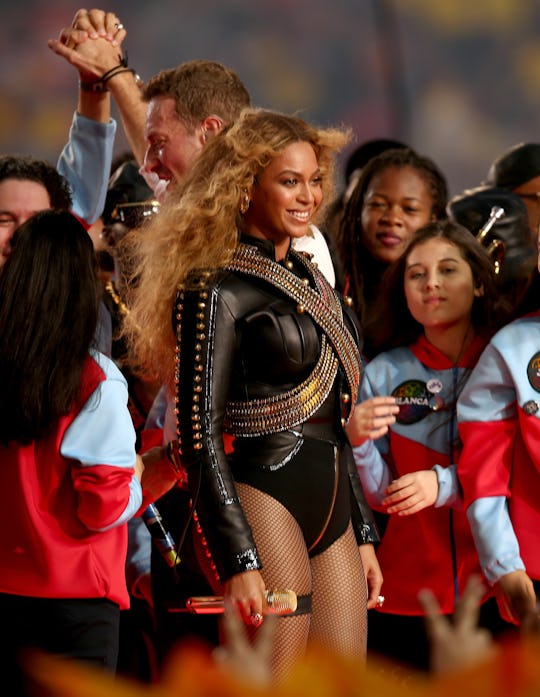 Matt Cowan/Getty Images Sport/Getty Images
Which Stores Sell Ivy Park? Here's Where To Buy Beyonce's New Activewear Line
By now, hopefully you've calmed down from the news that Beyoncé is designing a new line of fitness apparel, although I won't blame you if you're still running around belting out "Formation" at the top of your lungs. Assuming you want to get your hands on the line ASAP, it's important to know which stores sell Beyonce's Ivy Park collection, so you can be all ready to go when it drops. Luckily, you've got a few options.
Topshop actually co-produced the line with Beyonce after she reached out to them to collaborate, so that's probably the number one place to get all the activewear you could ever want. Topshop's website describes it as "high performance technical sportswear [mixed] with fashion-led casualwear," and that "Ivy Park empowers women through sport – no matter what your sporting ability or body shape." Yes please!
If you'd prefer to look elsewhere, Nordstrom and Zalando will be carrying the clothes too. You can even check to see if your local Nordstrom will carry the line before heading out to the store. Those who prefer to shop from the comfort of their own couch can purchase the clothes at any of the previously mentioned retailers' websites, or check out the official Ivy Park website for more info. And you don't have much longer to wait to feel even more empowered by your already-very-empowering favorite singer, since the line comes out on April 14.
According to Vogue, the collection contains 200 pieces, which run the gamut from "cobalt blue logo-emblazoned sports bras and matching leggings with a 'flip-to-low-rise' waistband" to "sleek and polished bodysuits with mesh trim." Prices range from $30 to $200, so there's something for most everybody. Queen Bey herself described why the line is different from other activewear out there in an interview for the May issue of Elle, saying, "I was so specific about the things I feel I need in a garment as a curvy woman, and just as a woman in general, so you feel safe and covered but also sexy... We mixed in some features found in men's sportswear that I wished were interpreted into girls' clothes."
In the same interview, she also got into the meaning of acceptance, self-love, and togetherness behind the brand, saying,
I called it Ivy Park because a park is our commonality. We can all go there; we're all welcomed. It's anywhere we create for ourselves. For me, it's the place that my drive comes from."
The Ivy part, of course, comes from her daughter's name, in case you wanted something adorable to "aww" over today.
Taking into account its affordable prices, positive message, and thoughtful design, the only possible problem I foresee with the line is that it might just sell out too quickly.