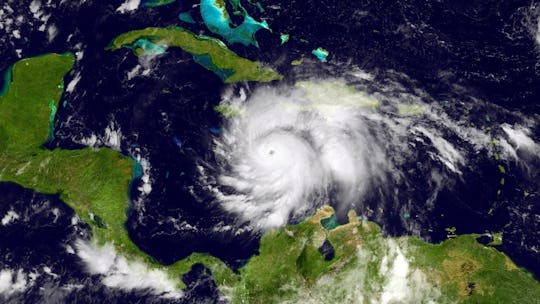 Handout/Getty Images News/Getty Images
Which US States Will Hurricane Matthew Hit? The Atlantic Coast Should Prepare
As Hurricane Matthew makes landfall in Haiti, officials are reportedly bracing for major damage. From Haiti, Matthew is expected to move to Cuba and parts of the Bahamas and possibly hit the U.S. later in the week. Which U.S. states will Matthew hit? It looks like it's headed toward the Southeast Coast.
In preparation for the storm, which NBC News is calling "the most powerful Atlantic storm since 2007," Gov. Rick Scott of Florida and North Carolina Gov. Pat McCrory are preparing for a major weather event, activating states of emergency across all of Florida and 66 counties in North Carolina, according to NBC News.
Scott spoke at a press conference on Monday about Hurricane Matthew's approach saying, ""Right now, the projected path is a little off the coast, but it can change at a moment's notice. When that happens, we're not going to have a lot of time to get ready."
According to NBC News meteorologist Bill Karins, Hurricane Matthew could be as dangerous as 1999's Hurricane Floyd, which caused more than two and a half million people to be evacuated across five states, according to NBC.
Here's a map showing the predicted track of Hurricane Matthew as it spins across the Atlantic.
Karis said, according to NBC:
The possibility exists for mandatory evacuations starting as early as late this evening in South Florida and definitely Wednesday for southern half of Florida on the east coast. With an expected path right along the Florida's east coast Matthew could be the biggest mass evacuation of coastal Florida since Floyd in 1999. And just like Floyd, it is not guaranteed that Matthew's eye will make landfall in Florida but it will be a close call.
But even if Hurricane Matthew never directly hits the U.S., Weather Channel meteorologist Jim Cantore warns of "massive" waves that could pound the Southeast Coast as a result of Matthew, and dangerous rip currents that could result from the hurricane churning offshore, according to USA Today.
Cantantore said Florida and North Carolina will get the largest waves, starting on Wednesday and going into Friday, USA Today reported.
Here's an incredible image of the storm from space.
According to AccuWeather, regardless of whether Matthew makes landfall, or turns back out to sea, it could bring heavy rains and potential flooding to New England as well. In addition, AccuWeather warns that waves out in the open Atlantic Ocean north of the Bahamas could be as large as 25 feet as a result of Hurricane Matthew.
"An offshore path that parallels the U.S. Atlantic coast could still lead to heavy rain in the mid-Atlantic and New England, if a non-tropical storm system interacts with Matthew," AccuWeather Senior Meteorologist Henry Margusity said.
Margusity recommends anyone living along the Atlantic Coast in the U.S. keep an eye on Matthew's progress and have a plan ready should the storm turn toward the mainland U.S.