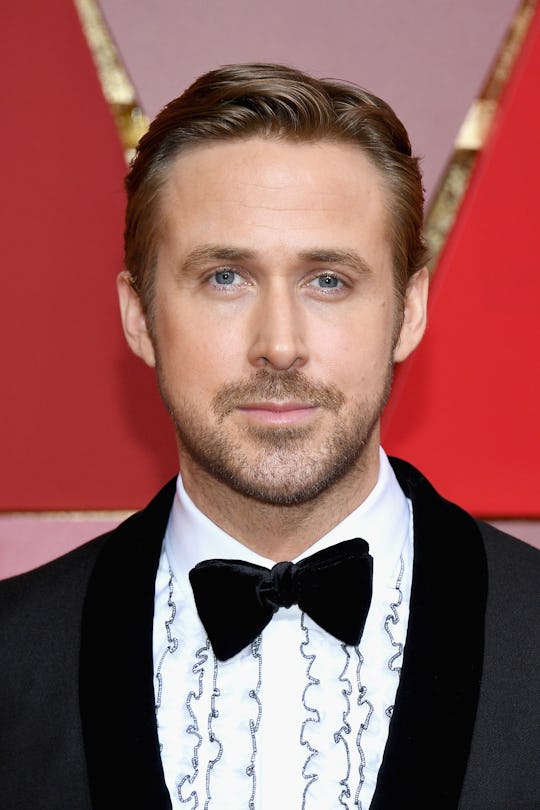 Kevork Djansezian/Getty
Whispering Ryan Gosling Memes Will Make Your Day
Possibly the most entertaining thing to happen at the Oscars this year was when Jimmy Kimmel grabbed a bunch of people off a random tour bus and dropped them on the Oscars stage to meet and greet the stars. At one point, one woman got to meet Ryan Gosling, and thus, a meme was born. The whispering Ryan Gosling Meme won the 2017 Oscars and the internet today, even if he didn't take home the award for Best Actor.
There was a lot of great moments that came out of this bit, not least of which was this woman's fiancé, named Gary, who spent the entire segment in an understandable state of shock as he took pictures of celebrities on his phone, even when Jimmy Kimmel pointed out that he didn't need to do that since this was all being televised. Of course, we don't actually know what Gosling was whispering at this moment, but the internet has naturally been incredibly creative in trying to figure out exactly what it was he said. Yes, it was probably something sweet and bland like "Nice to meet you, I'm Ryan, I act in movies and I'm famous for seeming really nice." But it is way more fun to imagine he said something truly ridiculous. Such as...
Obviously, the best part of this image is not Gosling leaning in to speak to this person, it is her expression, which is such an incredible mixture of shock, terror, excitement, and confusion, made all the more poignant by the selfie stick she still has poised and at the ready. Honestly, who among us would look any differently if Ryan Gosling was whispering God only knows what in our ears?
To be honest, the Oscars are often ridiculous and films win that many may feel don't actually deserve to win, but what it always gives us is glorious moments like these, that will exist on the internet for (probably) years to come. It's such a bizarre, perfect moment to be captured on film, and the perfect opening for inventive captions that the internet at large is so adept at. Personally, I think he was telling her that he knew that Warren Beatty was going to read the wrong name when announcing Best Picture and she was reacting the way we all did when we found out that Moonlight actually won the major award.
Whatever he said, and however you feel about the Oscars results, at least we will always have this amazing meme to remember it by.