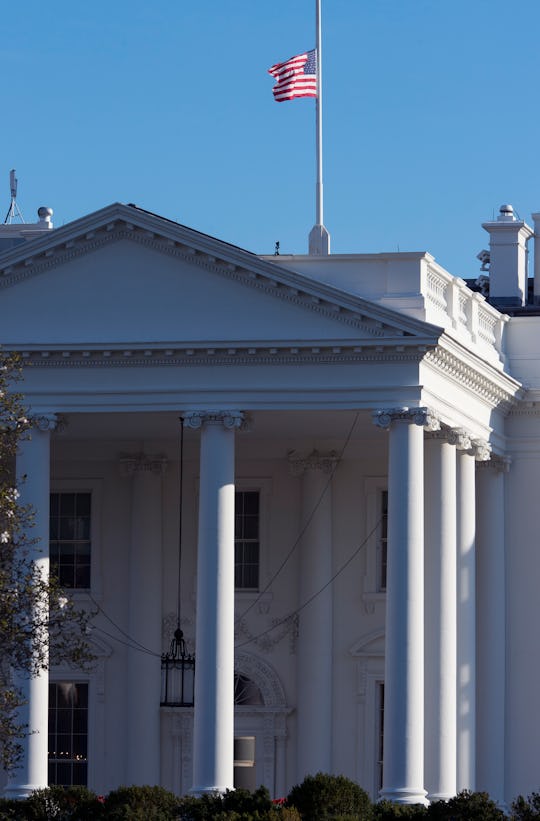 PAUL J. RICHARDS/AFP/Getty Images
White House Calls For Flags At Half-Mast Following Orlando Terror Attack
After a gunman entered gay Pulse nightclub in Orlando and took the lives of 50 people, there was no shortage of tributes pouring out to honor the victims of the Florida attack. But, shortly after Obama responded to the shooting, an official tribute to the victims was announced. The White House called for all flags to be flown at half-mast in support of the victims, not only at the President's home, but also at "all public buildings and grounds, at all military posts and naval stations, and on all naval vessels of the Federal Government in the District of Columbia and throughout the United States and its Territories and possessions." Flags will continue to be lowered until sundown on June 16.
(Update: The FBI has updated the death toll to 49 victims. The shooter was also killed.)
The measure was ordered by Obama himself, who, just minutes prior to the order being released, took the stage to discuss the attack, which was the worst mass shooting in U.S. history. Calling the shootings "an act of terror and hate," Obama told those watching that we would mourn, but not let incidents like these define us and our nation. Said the president:
This is a sobering reminder that attacks on any American, regardless of race, ethnicity or sexual orientation is an attack on all of us. And on the fundamental values of equality and dignity that define us as a country. And no act of hate or terror will ever change who we are or the values that make us Americans.
And the flags being lowered is just one reminder of those values, and how we will rise again.