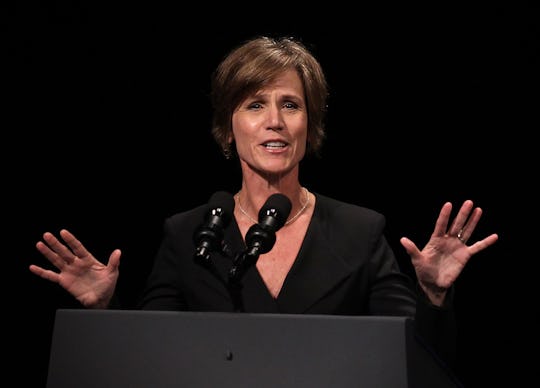 Alex Wong/Getty Images News/Getty Images
White House Claims Sally Yates "Betrayed" Trump
After she made it clear that she would not back President Trump's immigration ban on Monday, acting Attorney General Sally Yates was fired. The White House's statement on Yates' firing claims that she "betrayed" the Trump administration — and the peanut gallery on social media is acting just as you'd expect. People are calling it a "massacre" and a "coup," or are just in plain shock that the new administration would make such a bold move. In the meantime, Trump has appointed Dana Boente, US attorney for the eastern district of Virginia, to take over until his attorney general nominee, Alabama Sen. Jeff Sessions is confirmed by the Senate.
The White House statement reads, "It is time to get serious about protecting our country. Calling for tougher vetting for individuals traveling from seven dangerous places is not extreme. It is reasonable and necessary to protect our country." They added that Yates was a President Obama appointee who was "weak" on immigration. The administration also accused Democrats of "wrongly" holding up Sessions confirmation for "strictly political reasons."
Yates had expressed concern about the travel ban which earned her praise among Democrats and immigration advocates. That she was fired abruptly after making the statement, paired with the irony of the accusation that Democrats were opposing Trump, and Republicans, for "political reasons," has social media on fire.
Is This Trump's "Saturday Night Massacre?"
Or Is It Just A Confusing Power Grab?
Or Should She Have Watched The Apprentice?
Yates issued a statement earlier in the day saying, "I am responsible for ensuring that the positions we take in court remain consistent with this institution's solemn obligation to always seek justice and stand for what is right. She added, "At present, I am not convinced that the defense of the executive order is consistent with these responsibilities nor am I convinced that the executive order is lawful."
What's troubling about the move is that Yates was in her right to question the constitutional merits of the ban, as many Republicans did over the weekend. Although his executive order was legal, it pushes some boundaries when it comes to executive power (as well as American values).
Everything about the implementation of the ban made it look like a one-man show, and Yates' betrayal only furthers that image. At least Americans know Trump means business when it comes to following his directives, and not working to compromise with those who question him.
Trump tweeted earlier in the evening that he was getting fed up with the Democrats obstructing Sessions' hearing and complained about having "an Obama A.G." Sessions has long advocated to restrict travel to the United States and given the outpouring of opposition to the executive orders over the weekend, team Trump likely wants everyone on board with the bans. Especially the attorney general, who would have the responsibility of calling foul if they say fit. Yates called foul. Now, at least, other players in the administration know what happens when they disagree with the president.