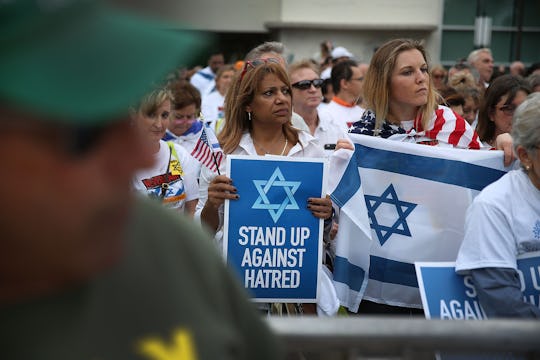 Joe Raedle/Getty Images News/Getty Images
White Supremacists Threaten Jewish Community In The Latest Post-election Incident
The hatred has got to stop. These days, it feels like now — more than ever — hatred has presented itself in the worst ways. Just one month after the election, hatred has come out full force, with people targeting one another because of their backgrounds or beliefs. In the latest concerning post-election incident, white supremacists decided to threaten a Jewish community in Montana by posting the community members' personal information online and subsequently calling on people to "troll them." This has got to stop — especially during such an uneasy and uncertain political climate that already has many fearful of what the future could bring.
The Jewish community in Whitefish, Montana has been threatened due to one website — The Daily Stormer — and its apparent desire for revenge. The site recently published names, photos, and emails, and other personal information, along with Jewish community members' family information. This personal information was posted onto The Daily Stormer's website with the intent of starting "an old fashioned troll storm" — although the website cautions readers to not use violence or "threats of violence or anything close to that." However, their use of hatred in their syntax and motivation for posting the personal information of members of the Jewish community is enough to cause damage or make those feel threatened.
These threats, according to the Missoulan, stem from claims that Jewish people in the town of Whitefish are boycotting the real estate business of white supremacist Richard Spencer's mother, Sherry Spencer.
According to The Daily Mail, Sherry Spencer is "being forced to sell a building she owns" in Whitefish because "residents are rebelling against her son." The Daily Mail claims that Sherry is "suffering financially" because of her son's views. Richard Spencer is the head of National Policy Institute and according to The Atlantic, responsible for popularizing the term "alt-right," a broad term for a group that is based in white nationalist and racist beliefs. According to The Daily Mail, another local real estate agent (who happens to be Jewish) is one of Sherry's "strongest opponents."
This alleged "boycott" of Sherry Spencer's businesses did not sit right with the "alt-right" Daily Stormer. In the post, writer Andrew Anglin calls Jewish people awful names, placing full responsibility for the actions that people in Whitefish have done to Sherry's businesses into the hands of the Jewish community. Anglin posted the names and personal information of co-founders of the activist group Love Lives Here and the alleged opponent of Sherry Spencer claiming "they're trying to silence Richard Spencer by harassing his mother." According to the Missoulan, Love Lives Here is a group established to fight "racial, ethnic, religious, and gender" discrimination in Northwest Montana.
The Daily Stormer encouraged readers to "hit them up" by making their opinions known — "tell them you are sickened by their Jew agenda to attack and harm the mother of someone whom they disagree with." The website encourages people to email, call, and visit those at the helm of Love Lives Here and contact their family members as well. But the posting of their public addresses, business phone numbers, and emails is incredibly dangerous. Even if The Daily Stormer's website does not promote violence, it does, however unintentionally, promote hatred against these community members by posting information that others can use to contact these people and harass them. And that's not the way to make a change or prevent someone from shutting down their business.
Harassing the Jewish community over unsubstantiated claims is an inexcusable act of degradation and hatred. Unfortunately, we live in a society in which the current political climate is only making things much, much worse.