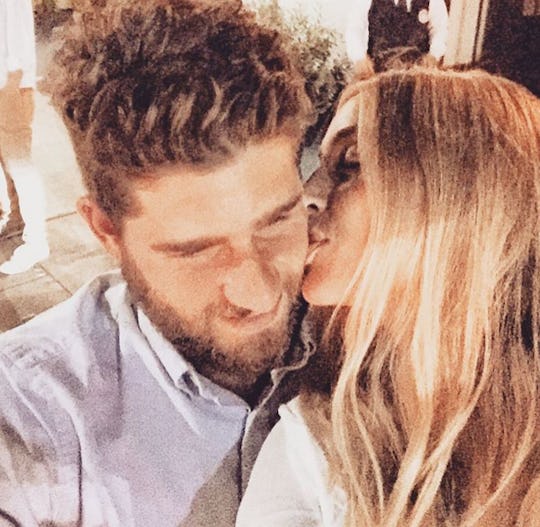 Whitney Port/Instagram
Whitney Port Marries Tim Rosenman (& Yes, The News Is For Real This Time)
OK guys, it's really and truly official this time: The Hills star Whitney Port married Tim Rosenman this weekend in Palm Springs, California. Just weeks after dismissing rumors that she and longtime fiancé Rosenman got hitched back in October, Port finally revealed the good news in an exclusive for Us Weekly on Saturday. And considering Port's totally on-point style (she is a fashion designer, after all), I'm willing to bet the wedding was gorgeous.
As you might remember, Port first met her now-husband on the set of The Hills spinoff series, The City. The two instantly hit it off, and in Nov. 2013, Rosenman popped the question. In photo posted to Port's Instagram account on Oct. 17, the Internet was in a frenzy thinking she's already jumped the broom with Rosenman. Not so, it turns out: that photo of Port clad in a strapless white dress was actually a photo from her bridal shower, not at the altar as it first appeared.
In a statement to Us Weekly, Port shared just how over the moon she is to finally call Rosenman husband instead of just fiancé:
"It's such a great feeling! We finally get to stop saying fiancé and be husband and wife! We really always knew we would end up together and now we can start a new amazing chapter in our lives. The wedding was everything we hoped it would be and will cherish the memories for the rest of our lives."
Here's a quick little recap of their romance, just in case you forgot...
Whitman first broke the news of her engagement to Rosenman via Instagram on Nov. 21, 2013:
This sneaky bridal shower photo posted by Port in October had the Internet abuzz with wedding bell rumors:
But it was not so, as Port herself debunked in an interview with Perez Hilton just a few days later:
Well, it's rumor no more. Congrats, Whitney!
Images: Whitney Port/Instagram