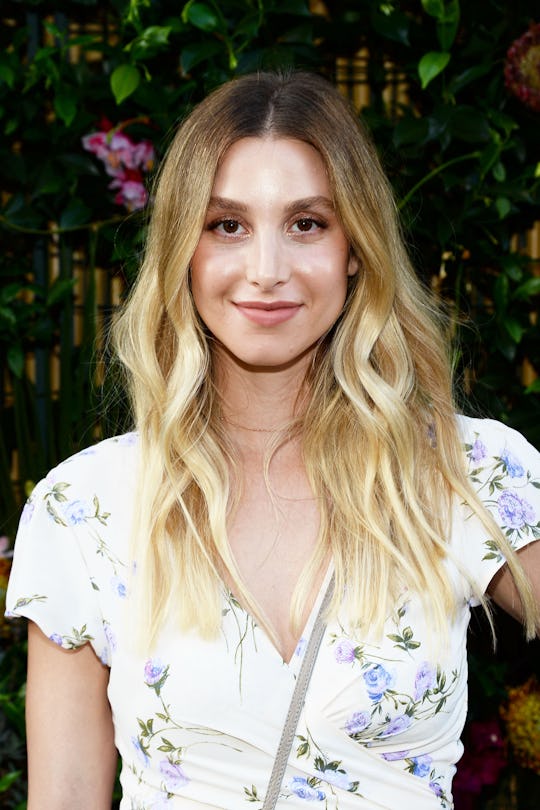 Matt Winkelmeyer/Getty Images Entertainment/Getty Images
Whitney Port Singing 'The Hills' Theme Song To Her Son Is Making Millennials So Darn Nostalgic
When The Hills ended in July 2010, Whitney Port went above and beyond to distance herself from the hit show. Similarly to Port's co-star and friend, Lauren Conrad, she wanted to establish a career and identity outside of the persona she created on MTV. And when Port welcomed her first child, Sonny, in July 2017, fans assumed The Hills was out of her life for good. Well, think again, Hills disciples, because this video of Whitney Port singing "Unwritten" to her son in the car proves the show is still near and dear to heart. Buckle up for some grade-A nostalgia, folks.
Back in April, Port talked about moving on from The Hills and its iconic cast. "You know, I always say, it's kind of like college," Port confessed to Grazia. "You go through this crazy thing together and you're so close at the time but obviously life changes and, yeah, we've all gone on our separate paths... "
Makes sense, right? People change and life moves on. But just because a certain chapter of your life closes, it doesn't mean you can't revisit it when the mood strikes. Just ask Port, who decided to break out into an *adorable* rendition of the show's theme song, "Unwritten," during a car ride with Sonny on Saturday. The rest is still unwritten...
To make matters even cuter, Port stops mid-song to say, according to People: "Sonny, this is mama's song." Be still my heart. I'm thrilled to see Port is educating Sonny on the glory that is The Hills.
Naturally, Hills fans freaked out over Port's trip down memory lane.
"Take me BACK," one fan penned on Instagram.
"Omg. I still remember watching the premiere in my basement w you!" one person wrote to a friend.
"I felt this in my heart," someone else said.
And one particularly nostalgic person simply said: "MEMORIES."
The good news for wistful fans? The Hills might make a comeback at some point, minus LC. "The rest of the crew is all still friends besides her," an insider supposedly close to the situation explained to Us Weekly in June. "Everyone else is down to do it."
Port is one of the cast members who is open to bringing back the show. Port explained, according to Us Weekly:
I think there's like a slight possibility. People are talking about it a little, but there's nothing actually like concrete in the works. I think it would be hard to get everybody back together again just because we're all in such different places, but it'd definitely be something fun.
The only stipulation? The reunion can't be a Jersey Shore type of situation. "I think it depends on what it was about. I don't necessarily need to go on a vacation like Jersey Shore people," Port added, according to Digital Spy. "Stay in a hotel room with everybody and like … Yeah. Not for me, I'm not that fun. I mean I'm fun, but not that kind of fun."
If The Hills reboot doesn't work out, however, there's no doubt Port will be A-ok. Port is perfectly content with the title of mom, and she's very dedicated to her YouTube blog about motherhood. "It made me feel so comfortable and like I wasn't alone, Port said about the importance of her blog, according to Jenni Kayne. "That community kept me going as I started my series and as I continue to maintain it. It's been really amazing to be able to get support and provide support to others."
So, while fans might not get to see Port on a reboot of The Hills anytime soon, her cute karaoke rendition of "Unwritten" is a satisfying consolation prize. In fact, it's almost as satisfying as feeling the rain on your skin...