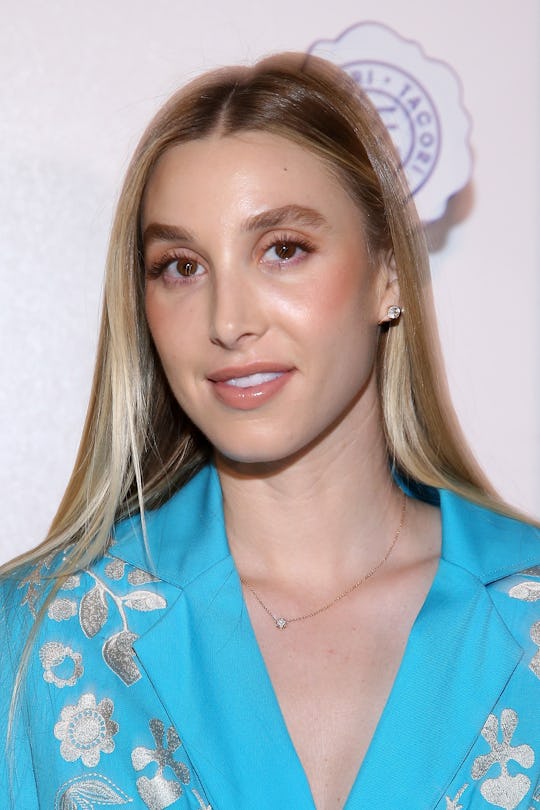 Jonathan Leibson/Getty Images Entertainment/Getty Images
Whitney Port's Quotes About Motherhood Are About As Real As It Gets
Long hailed as the realest girl on reality TV, Whitney Port has not shied away from telling the world how she feels. Whether she was talking about being in love with a player, her work drama with Olivia, or her life post-The Hills, she has proven time and again that she doesn't know how to be fake. Much like the rest of her public statements, Whitney Port's quotes about motherhood show that she is not one to gloss over the difficult details of life, love, and pregnancy. Now that she is a new parent, her sentiments on motherhood are all the more poignant.
Port and her husband Tim Rosenman welcomed their first child on Thursday, July 27. Baby Sonny Sanford Rosenman arrived at 12:30 a.m. and mom and dad were overjoyed. In between cuddles and diaper changes, the new mom managed to find the time to put her abundance of feelings into words. Luckily for all of us, Port chronicled her entire pregnancy in a blog for People. Her thoughts and feelings come in the form of an endearing and hilarious video blog entitled, I Love My Baby But I Hate My Pregnancy, so we can look back on all of her greatest moments for years to come.
On The Overwhelming Love For One's Children
In the blog post announcing the birth of her son, Port explained the powerful love that she felt the instant she met her little one:
We've all heard mothers give the same speech about how life changing the love for your baby is, and it's not like I didn't believe it or anything, but I guess I couldn't actually connect to those exact feelings until the doctor placed Sonny onto my chest.
On The Uncomfortable Realities Of Pregnancy
While the name of her video series may be a bit tongue-in-cheek, the reality star explained that there were some seriously hard points during her pregnancy:
When Timmy & I began filming this series, I was NOT in a good place. I was nauseous, exhausted, flu-ish and just straight up miserable. I named it I LOVE MY BABY, BUT I HATE MY PREGNANCY because at the time, that's how I really felt. It's important to me to be completely honest at all times.
On Sex During Pregnancy
Even though experts agree that sex during pregnancy is usually safe for baby, not everyone is feeling frisky while growing another human being. Port opened up about that struggle:
It is so not for me! It's not. I feel so uncomfortable with my body that I can't get into the mood.
On The Birds & The Bees
Having the talk is not a moment most moms look forward to. Port, on the other hand, has the most beautiful response to the "where do babies come from" question:
When two people love each other so much and the love becomes too great to fit inside both people, it spills over into a THIRD person. This is how I am going to explain where babies come from to the little baby that is now growing inside my belly because Timmy and I are PREGNANT!
On Maternal Instincts
Finally, Port's comments on the love and protectiveness that mama bears feel hit me right in the feels:
I love him and feel protective over him, but more than anything, I'm just like obsessed. I can't stop looking at him, or thinking about him when I am in another room.
Welcome to the world, baby Sonny! Judging by her sentiments on motherhood, you have one heck of a mom looking out for you.