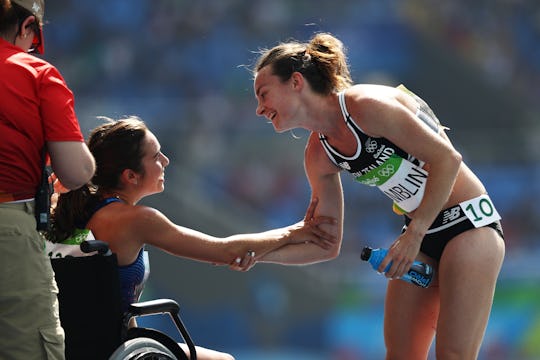 Patrick Smith/Getty Images Sport/Getty Images
Who Are Abbey D'Agostino & Nikki Hamblin? Their Act Of Kindness Is Going Viral
The Olympics bring out fierce competition and, in some cases, incredible grace. At the 5,000 meter run on Tuesday, two runners collided, but they both managed to finish the race due to a combined act of kindness. So who are Abbey D'Agostino and Nikki Hamblin, and why has their race gone viral?
The collision between the two runners occurred a little over halfway into the race. It appears that D'Agostino hit Hamblin, which caused them both to fall down hard onto the track. D'Agostino (from the U.S. team) was able to get back up and was about to push forward until she saw Hamblin (a New Zealander) unable to get up herself. So, D'Agostino helped her.
At this moment, D'Agostino realized that she herself was unable continue, and collapsed once more. Now was Hamblin's time to return the favor as she pulled D'Agostino to standing. Hamblin finished in second to last place, and D'Agostino finished last, nursing a limp from her fall.
After the run, Hamblin relayed what had happened to local reporters. She says that, when the two fell, D'Agostino turned to Hamblin, and told her: "Get up, get up, we have to finish this." This reignited Hamblin's drive, as she thought "Yup, yup, you're right. This is the Olympic Games. We have to finish this."
"I've never met this girl before," Hamblin said, amazed at D'Agostino's resolve and her willingness to help out a competitor. "I'm so grateful for Abbey for doing that for me," she affirmed. D'Agostino was carried out of the track in a wheelchair after her injured finish, but the two hugged after the race.
This was only a qualifying heat, and, because they were tripped, both women are able to advance to the 5,000 meter final on Friday— a race you'll definitely want to tune in for, if only to see your two new heroes. One of D'Agostino's teammates, Alexi Pappas, marveled at her act, saying that she "didn't stop. She did it with joy, so joyful as she could be." Hamblin concurred with this sentiment, saying that "Everyone wants to win and everyone wants to medal," and noting that, "as disappointing as this experience was, there is so much more to this than a medal or winning."
Viewers everywhere are tweeting how inspired they've been by the gesture, definitely agreeing with Hamblin's take on it all, and proving that the best Olympic moments don't always end in gold-medal finishes:
Surely Hamblin's time on the track thus far has been unforgettable. As for D'Agostino, Hamblin remarked, "I mean, that girl is the Olympic spirit right there."