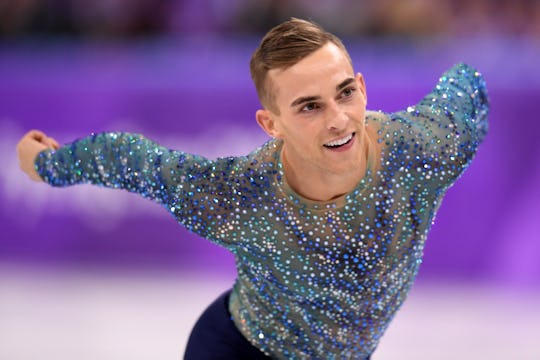 Harry How/Getty Images Sport/Getty Images
Adam Rippon's Parents: Here's Who Raised The Dazzling Olympic Figure Skater
With the 2018 Winter Olympics in full swing and figure skater Adam Rippon quite literally stealing every American's heart one by one, it's hard not to wonder about this magical human's roots. Like, where is he from, how did get to be that good at figure skating, and who are Adam Rippon's parents? Although it might feel like the 28-year-old Olympian was born a star with celebrity status, he comes from a humble and loving background.
Prior to becoming a professional ice skater, Rippon was raised in Scranton, Pennsylvania, by his parents Rick and Kelly, along with his five siblings, according to Heavy.com. His father, Rick, is the president at Netrastar, a company that provides free daily online training to police departments, schools, fire departments, EMS organizations and other businesses, according to the company's website. According to his LinkedIn profile page, he has been president of the company since January 1997.
As for Rippon's mother, Kelly, she is a motivational speaker for Authentic Change, as reported by Good Housekeeping. She has been with the company for 12 years, according to her LinkedIn account and she describes herself as an "expert communicator and accomplished business strategist with a skill set that can effectively identify strengths, analyze deficiencies, and organize a prompt solution orientated action plan."
Rippon appears to have a very loving upbringing, as his mother recently told Good Housekeeping, "My kids grew up in a very open and welcoming space, and that extended to sexual orientation. No one was treated as odd, just because something might be unusual, it wasn't considered abnormal."
Rippon came out as gay via SKATING Magazine in 2015, according to Ice Network. When Rippon discussed his sexuality in the interview, he said, "Being gay is not something that defines me. What defines me is what my mom always taught me: to treat everyone with respect, to always be a hard worker and to be kind. Those are the things that define me." Clearly, his parents have been very supportive of him.
In November 2017, Rippon posted a photo of himself with his mom on Instagram, in honor of her birthday, and he wrote the most adorable message with the pic:
My mom is the bravest, coolest, and funniest person I know. She pushes me to be better than I think I can be. I'm sure at times she might think that she helped create a monster (me) but she taught me to be confident, to believe in myself, and to be resilient.
"I take those lessons and apply them to everything I do in my life. She taught me to be strong and I am strong," his caption continued. "But, when I grow up (I'm still pretty young ALRIGHT?!) I want to be as strong as her."
While Rippon has two parents, Good Housekeeping reported that Kelly and Rick have not been together for years and Kelly reportedly raised Rippon as a single mother. Rippon is the eldest of six children and much of his family still resides in Pennsylvania, as he told Penn Live.
Rippon told the news outlet about what he likes to do when he goes home to visit:
I like to come as often as I can, because my family still lives in Pennsylvania. I always like to go to Hershey and to go to (Hershey's) Chocolate World. A few of my favorite things in Pennsylvania are Tastykake and, from my area specifically, Gertrude Hawk, which is a chocolate company. There are a few things I always love to do when I come home and it's all beside the fact that I like to see all my cousins and my brothers and sisters.
It definitely sounds like Rippon is close with his family and as he skated his heart out at the 2018 Olympics, his parents continued to show their support.
Check out Romper's new video series, Bearing The Motherload, where disagreeing parents from different sides of an issue sit down with a mediator and talk about how to support (and not judge) each other's parenting perspectives. New episodes air Mondays on Facebook.