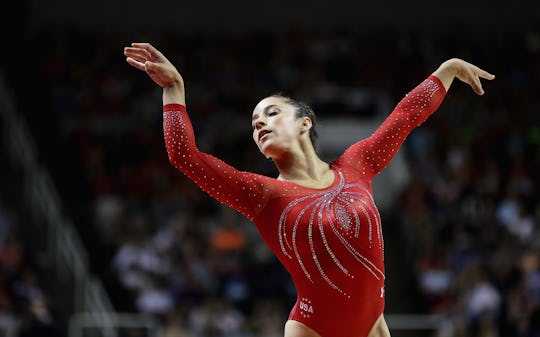 Ezra Shaw/Getty Images Sport/Getty Images
Who Are Aly Raisman's Parents? Their Emotional Support Is Unparalleled
On Sunday, gymnast Aly Raisman competed in the 2016 women's gymnastic qualifiers at the Rio Olympics. And while the 22-year-old nailed the routine, earning her spot in the all-around finals later today, when Aly wasn't performing all eyes were on her parents. Why? Because Aly's parents were visibly nervous and anxious for their daughter. Because Aly's parents were shifting, twisting, and squirming in their seat. But who can blame them? I mean, there daughter was performing in the Olympics. But who are Aly Raisman's parents? Well, Lynn and Rick Raisman appear to be sweet and supportive and very invested in their daughter's success.
In an interview with People earlier this week, Lynn explained why she and husband Rick reacted to Aly's performance as they did:
I get nervous because I know what goes into it and how many hours she's prepared and how hard she is on herself, and I want her to be happy and go out there and do the best performance she can do. So when it's over, she is happy no matter the results, so I do get nervous. But whatever she was doing I want her to have the best outcome.
And Lynn, who "always cries" at Aly's meets, still cannot believe her daughter is in the Olympics:
I still can't believe she went to the Olympics. It's crazy.
But this isn't Aly's first time performing at the international games. Aly was a member of Team USA during the 2012 Olympics, and during those games Aly won three medals: a bronze, for her performance on the balance beam, and two golds, one in the team competition and one for her floor exercise. In fact, it was during the 2012 Olympics in London when Lynn and Rick first made headlines because of their "emotional" and enthusiastic cheering. But I cannot even begin to fathom how I would react. I get nervous when my toddler runs around the playground or jumps (fearlessly) into our community's pool.
Seriously. My daughter has gotten into some situations that have made me squirm and shield my own eyes just like Lynn — and she isn't performing on an international scale.
So while, to some, Lynn and Rick may seem bit eccentric, a bitt too enthusiastic, and even a little fanatical, they are supportive parents. They are loving parents, and they are the embodiment of all parents who want the best for their children.