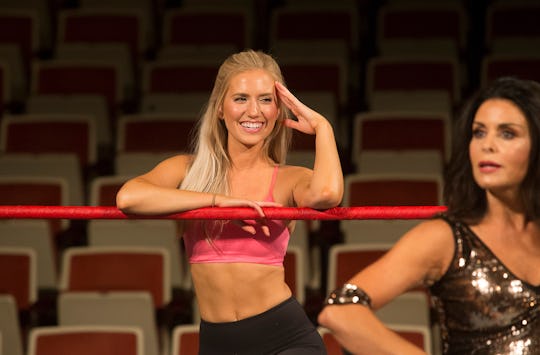 Paul Hebert/ABC
Arie's Final Three Are About To Be Revealed On 'The Bachelor'
As truly creepy as I find the phrase "fantasy suite," I think the overnight dates are the most important part of any Bachelor or Bachelorette season, because it's the one time during the whole three months that the lead gets a chance to talk to their prospective spouses without cameras or producers around. So who are Arie's fantasy suite dates on The Bachelor? He gets a night alone with only three of them, and I have some theories on who those women might be. As, I'm sure, do you.
I don't know for certain who Arie chooses to spend the night with at the end of this journey, but I can definitely make a guess. To clarify, the fantasy suite dates are an option for the final three contestants on the show, but the lead is not required to offer the date to all three remaining people. At the moment, Arie has already whittled his choices down to four women, Kendall, Becca K., Tia, and Lauren B. After the hometown dates, Arie will have to send one woman home and choose which, if any, of the final three he'd like to spend some actual alone time with. I have laid out my thoughts and predictions below. Make of them what you will...
Tia
Bright, lovable, shining star Tia quickly became a fan-favorite on the show. She had the kind of attitude that made it seem like you were watching your best friend from high school on TV. She's extremely smart with a great career and a cool as hell tattoo on her shoulder. Arie seems to dig her also, as she was the first woman to confess that she was falling for him. So who wouldn't want to spend the evening with this one?
Lauren B.
Honestly, it's hard to know what to say about Lauren B. because she rarely talks. However, it's clear that Arie is very, very into her. In Italy, Lauren laid it all out when she said that she was falling in love with him. And then after walking away to, I don't know, gather himself I guess, Arie told Lauren that he was falling so deeply in love with her too. So whatever she's doing, it seems to be working in her favor.
Becca K.
If the midwest was personified as an extraordinarily attractive woman, it would be Becca K. She's warm and and pretty and wholesome and wholly unoffensive to literally everyone. I really wish the show had given her more room to show her personality, because I feel like I'd like her. In any case, she's been a clear frontrunner for Arie's heart from the very beginning, and I think he'll definitely want to get some serious one-on-one alone time with her.
I don't know for sure which of these women will get invited on his fantasy suite dates. I don't even know that one of them won't actually be Kendall, who is my personal favorite of all the women in Arie's group. But I suspect that Kendall, whose relationship with Arie is the weakest, and the only woman of the four who hasn't had a one-on-one date, will be leaving the group after the hometown dates. Quite honestly, this is probably for the best as I bet she can find an awesome dude who appreciates her love of taxidermy and ukulele skills and her unbelievable poise in the face of extreme pettiness.
I don't have all the answers people, I just have educated guesses. We'll know for sure how it all plays out soon.
Check out Romper's new video series, Romper's Doula Diaries:
Watch full episodes of Romper's Doula Diaries on Facebook Watch.