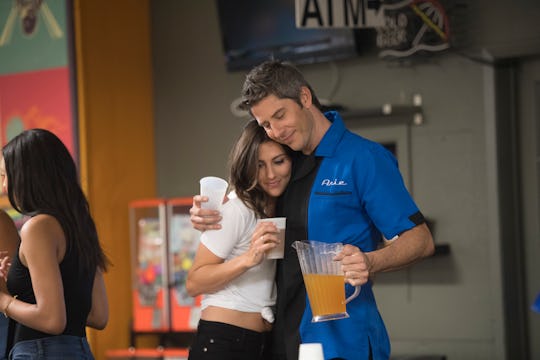 Paul Hebert/ABC
Arie's Hometown Dates On 'The Bachelor' Could Come Down To These Four Women
It's about that time again, Bachelor Nation. The time when the four remaining hopefuls for the Bachelor's heart take the leading man back to their towns for the hometown dates, in which each of their families will hopefully give this guy the grief he needs. So who are Arie's hometown dates on The Bachelor? Well nothing is set in stone quite yet, but I'll be darned if that's going to stop me (or anyone else) from speculating about who's going to get the coveted hometown spots.
As the pool of hopefuls gets smaller with each week, a few front-runners are clearly pulling ahead. While some other women are falling behind as far as their "connection" with Arie goes. Obviously, I can't say for sure who's going home and who's not. After all, I'm not there for any of these conversations and I don't definitively know how any of these people feel about each other. But I am a certified Bachelor scholar (I certified myself) and from my longtime history with this show I can fairly confidently make a few predictions. Though there are definitely a couple of wildcards included. For example, who could have foreseen how quickly Lauren B. would pull ahead to the front of the pack? So without further ado, here are my predictions...
Becca K.
After getting the first one-on-one date, Becca has been a serious contender from the very beginning. She and Arie clearly have a genuine connection, and it's obvious that they're into each other. At the very least, they're very into making out with one another. Also, she hasn't gotten into any beef with any of the other ladies on the show, which is a good sign. I predict that she will take Arie home to Minnesota with her, where I hope they will embark on some snowy adventure.
Lauren B.
Before Week 6, Lauren was a pretty unknown entity. She hadn't gotten a ton of screen time and she was definitely not among the most vocal of the women. But during their date in Paris, Lauren got Arie to do what none of the other women had. She got him to reveal his own secret and painful romantic past. This dark horse contender has suddenly become a serious front-runner.
Tia
Also known as Raven 2.0, Tia has been a favorite both with fans and with Arie right from the beginning. Sure, I get the feeling that he's overplaying this whole "country" thing (we get it, she's from Arkansas), but Tia was the first woman to tell Arie that she's falling in love with him. For a guy so very focused on getting married at the end of all this, this is definitely a big plus in her favor.
Kendall
So the final spot is a bit of a wildcard. While I feel very confident about the other three women, this spot could just as easily have gone to Bekah M. I'm basing my Kendall prediction on two factors. The first is that it looks like Arie is having a hard time believing that Bekah is truly ready for marriage at just 22 years old. As for Kendall, though she didn't seem to make a huge impression before, after blowing Arie away on the two-on-one date, I get the feeling that their relationship is on the upward swing. This could just be enough to get her a hometown visit, where I hope very much to meet her taxidermy collection.
Sure, none of this is an exact science, and I could be completely wrong about all four of these ladies. But I think these predictions are pretty solid. We'll know soon enough by the end of Monday night's episode.
Check out Romper's new video series, Romper's Doula Diaries:
Watch full episodes of Romper's Doula Diaries on Facebook Watch.