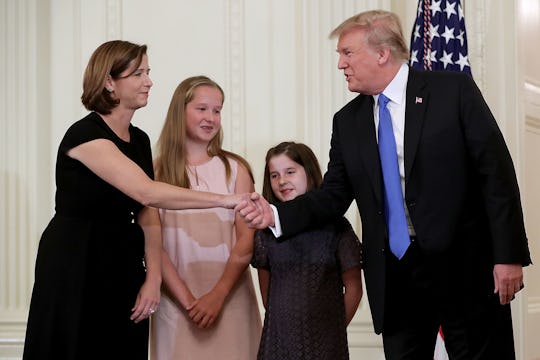 Chip Somodevilla/Getty Images News/Getty Images
Ashley Estes Kavanaugh's Parents Have Worked Hard To Stay Out Of The Spotlight
While President Trump's SCOTUS nominee is making headlines, but he isn't the only member of the family with a political background. With all of the coverage surrounding the judge's family, you may be wondering more about the nominee's wife, maybe even who Ashley Estes Kavanaugh parents are. Not too much has been made public about her family, but here's what is known.
Ashley Esetes Kavanaugh, wife of SCOTUS nominee Brett Kavanaugh, comes from Abliene, Texas where she graduated from Cooper High School in 1993, according to CBS subsidiary, KFDM 6 News. Her husband made her hometown known during his speech on Monday night, saying, "My wife Ashley is a West Texan. She has been a great wife and an inspiring mom. I thank God every day for my family." Following high school, Ashley went on to graduate from the University of Texas in Austin in 1997 before serving as personal secretary for President George W. Bush from 2001 to 2004. It was in the Bush White House that she met her husband in 2001.
The pair have two daughters together, Margaret and Liza, according to Your Tango. Brett also described their children during his speech on Monday, before high-fiving Liza. "I have two spirited daughters, Margaret and Liza, he said. "Margaret loves sports and she loves to read. Liza loves sports and she loves to talk." Family is clearly very important to the Kavanaughs.
Beyond her high school and college careers, little has been reported on Ashley's life in Abliene. However, there is a Nancy Estes is listed as a member of the vestry of The Episcopal Church of the Heavenly Rest in Abliene who could potentially be Ashley's mother. Her father remains a bit more mysterious.
More is known about Ashley's family with Brett, and her marriage in particular. Brett has opened up about his first date with Ashley and how they found love, according to KDFM 6:
Our first date was on September 10, 2001. The next morning, I was a few steps behind her when the Secret Service shouted at all of us to sprint out the front gates of the White House because there was an inbound plane. In the difficult weeks that followed, Ashley was a source of strength for President Bush and everyone in this building.
The couple tied the knot in 2004 with a ceremony that made the Washingtonian's "Weddings of the Rich and Famous" column. "Sometimes, the wedding guests are more famous than the bride and groom," the columnist wrote, referring to the fact that President Bush and first lady Laura Bush were in attendance. While Ashley's parents were likely laso on the guest list, the column does not refer to them by name.
Ashley has certainly stayed busy since leaving the White House, enough to make her allusive parents proud. While her husband has been making his way up the judicial ladder, Ashley has been serving as Town Manager of The Village of Chevy Chase Section 5 in Maryland, according to her LinkedIn. Her sis a non-partisan position, appointed by the town council. The municipality was first established in 1922 and became an incorporated municipality in 1982. The village website boasts a modest 227 houses and a single restaurant. Ashley appears to be a proud manager. When speaking to Bethesda Magazine about the village's July 4 celebration, she described it as a child's dream with "all the things you want when you're 10 years old."
Ashley Estes Kavanaugh's parents have managed to stay out of the limelight, despite their son-in-law's recent nomination. Privacy is a valuable thing, especially in the political world. Hopefully they can continue to live on their own terms as their family progresses politically.