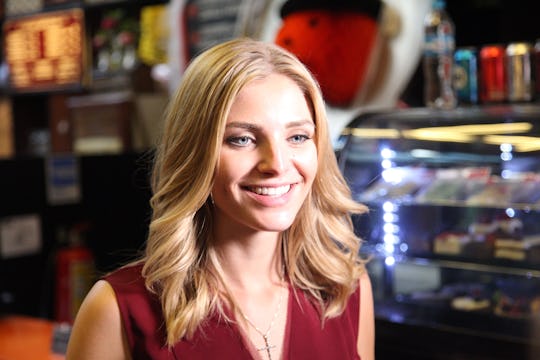 Eniac Martinez/ABC/Getty Images
Who Are 'Bachelor' Olivia's Exes? Fans Are Suspicious Of Her Motives
ABC's The Bachelor is always rife with drama, and this season is no different. Contestant Olivia Caridi received the first impression rose from Ben Higgins, but rumor has it that she is not what she seems. Her past and motivation for joining the show are still mysterious, and many viewers are wondering who are Bachelor Olivia's exes and what do they think of her?
According to an anonymous source who spoke to OK! magazine Olivia only joined the show because she "wants to be famous." Allegedly, she dumped her longtime boyfriend and quit her job as a news anchor at WCYB in Virginia all to that end. Bachelor fan blog, Ok! Here's the Situation did some digging on Olivia's cast-off ex. They claim that he is 26-year-old Josh Rose, a native of Bristol, Tennessee, and a law student at Liberty University in Lynchburg, Virginia. His LinkedIn profile reveals that he once interned for Tennessee Rep. Phil Roe, and got a bachelor's in business administration and marketing management before becoming interested in pursuing a law degree. All in all, he seems nice enough.
Did he really date Olivia? Did she really break his heart for a shot at fame? Is he in on the scheme? Is it a fake breakup? One Twitter user, Kodi Estep, is claiming to be Rose's friend. The intensity of her anger towards Olivia for breaking up with Rose seems to suggest that the breakup was very real, very unexpected, very undeserved, and very sudden. It has not yet been confirmed whether she is a true friend of theirs or another Bachelor super-fan, but her tweets suggest that she knows something about Olivia that fans do not.
Again, this may be just another trolling fan, and Olivia's motivations for being on the Bachelor are still unclear. It does seem odd, though, that even the show's host, Chris Harrison, has already painted her as a villain. In an interview with Yahoo! Harrison named Olivia as one of six women to watch, but not necessarily for the right reasons. Yes, she seems to be a favorite of Ben's for now, but Harrison said that even Ben is suspicious:
Obviously pretty. Pleasant smile. One of the things Ben worries about is if she is sincere. He wonders like everyone does, if she is there for the right reasons — or is she here for publicity?
It's hard to judge someone for joining a television show because they want to be famous, but Ben Higgins does seem to value sincerity. Perhaps if Olivia were honest about her past and her reasons, no matter what they are, she could win him over.