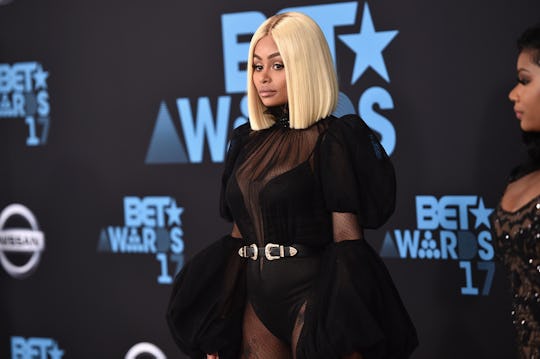 Alberto E. Rodriguez/Getty Images Entertainment/Getty Images
Who Are Blac Chyna's Lawyers?
On Monday, Blac Chyna made an appearance at a Los Angeles court, where she filed for — and was granted — a temporary restraining order against Rob Kardashian, according to E! News. While Kardashian was not present, both stars were represented by their respective legal counsel. Who are Blac Chyna's lawyers? The mother-of-two was joined Monday by her attorneys, Lisa Bloom and Walter Mosley, whom she hired last week following a disturbing feud during which Kardashian accused Chyna of cheating on him, and posted a series of explicit photos of her on his social media accounts. Kardashian also alleged that he had paid $100,000 towards Chyna's plastic surgery, that she abuses alcohol and drugs, and threatened that she would no longer be able to see their infant daughter, Dream, according to E! News. In a since-deleted Snapchat post, Chyna responded, and alleged that Kardashian had been physically abusive towards her, according to People.
Kardashian's representative did not immediately respond to Romper's request for comment on the issue, but in an e-mailed statement, Bloom told Romper that she was "very proud to represent Blac Chyna as she stands up for her rights as a woman and as a mother against her ex, Rob Kardashian," and that the restraining order is meant "to require Mr. Kardashian to behave like a grownup toward the mother of his baby."
In her statement, Bloom also issued Kardashian a stern warning about the severity of what he had done. She wrote,
Mr. Kardashian, you are now on notice: revenge porn is illegal. Cyberbullying your ex is harassment. Chyna ended your relationship months ago and she has the right to live as she chooses, work as she chooses, dress as she chooses, date who she chooses, and be intimate with who she chooses. Chyna and I both believe that this is an important women's rights issue, as too many women and girls have been slut-shamed by exes.
It stops now. Your attempts to shame and control her are hereby rejected.
Her body, her choice. Her life, her choice. Back off.
On Monday, Bloom and Chyna sat down with Good Morning America, and during the interview, Chyna said that she felt "betrayed" and "devastated" after Kardashian shared explicit photos of her online. But his actions could have very real legal implications too: Bloom told ABC News that it's a crime to post explicit images online without consent in California, and explained that it was the driving force behind the decision to get a restraining order. She said, "It's also domestic abuse, which allows us to go in immediately and get domestic violence restraining orders to protect Chyna." (No charges have been filed against Kardashian, however.)
Bloom is certainly no stranger to cases involving "revenge porn" or allegations of domestic abuse or sexual assault. According to The New York Post, the high-powered lawyer represented actress Mischa Barton after her ex threatened to make a sex tape public (Bloom won the case, which blocked the tape's release). And according to The Hollywood Reporter, Bloom also represented Janice Dickinson in a defamation lawsuit against Bill Cosby.
Despite the severity of Kardashian's actions, and Bloom's clear message that neither Chyna, nor any other woman, should ever have to endure having explicit photos shared online without their consent, the social media reaction to Chyna's response has been incredibly critical. Though it's honestly hard to fathom why anyone could condone Kardashian's behavior, many users have argued that Chyna deserved it, or that she shouldn't get upset, given that she's shared explicit photos of herself in the past.
But shaming Chyna for her choices ignores the fact that Kardashian had no right to share photos of her, allegedly without her consent, regardless of any other factors that may have come into play. There's no reason why Kardashian's reaction would ever be appropriate, and Chyna has every reason to stand up for her rights.