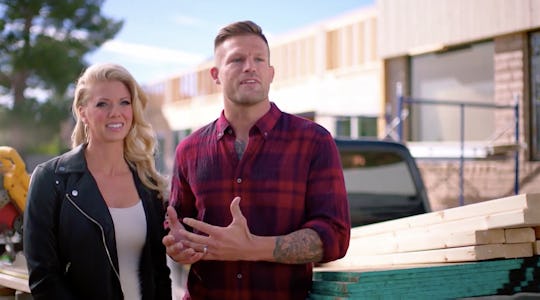 HGTV
Get To Know All About 'Flip Or Flop Vegas' Stars Bristol & Aubrey Marunde
The original Flip or Flop couple Christina and Tarek El Moussa may have broken up, but one of the original show's spinoff versions, Flip or Flop Vegas features a married couple just as adorable as the El Moussas ever were. So who are Bristol and Aubrey Marunde on Flip or Flop Vegas? If you haven't already, you are definitely about to fall in love with these two because they are cute as can be — in a quintessentially Las Vegas kind of way of course. The pair met, naturally, at a UFC fight. Because what says love more than wrestling? Or is that boxing?
The couple use their combined skills to flip real estate in Las Vegas, one of the most fast-paced real estate markets in the country. Bristol brings construction know-how while Aubrey knows the real estate market, and together they may be HGTV's newest favorite home improvement couple. Though they're clearly a success story, Bristol did not start his career in construction. In fact, he's an MMA fighter who spent 10 years in the ring. So it's no wonder that the couple met at a UFC fight. Shortly after meeting they went on their first coffee date and apparently fell in love right then and there.
"I don't want to sound cliché but it was love at first sight. We just fell in love and we both decided that we were ready to settle down and that was it," Bristol said in an interview with E! Online. In that same interview, the couple revealed that they started talking real estate right from the very beginning. He was looking for a house and she was a realtor. So basically the stars were aligning for these two to get together. Now it's been almost 10 years and the two have a successful business and two adorable sons, Kane and Kale.
The Marundes both agree that they make a great team, with each partner balancing out the other's skills. "He does the stuff that I don't want to do… I make all the real estate transactions happen. I do all the design, order all the products and then I hand it over to Bristol and he makes it happen," Aubrey said in the same interview. But the couple isn't all business all the time. When they're not flipping houses they might be adding to their own small zoo (they currently have two dogs, two parakeets, two turtles, four chickens and two fish) or spending time in their home away from home in Seattle.
"We actually have a house outside of Seattle and that's kind of our escape. It's completely different from Vegas. It's on five acres, it's wooded and we love going there," Aubrey said in the same E! article. Judging by the couple's Instagram and other social media accounts, they like to play (almost) as hard as they work. Or at least they allow themselves to play while they're at work and seem to really enjoy what they do (as well as being completely adorable together).
They post pictures of projects midway through, or their adorable little boys trying to "help" mom and dad with a project. Basically, they look like the kind of family everybody would love to hang out with. Personally, I'm not even a fan of the city of Las Vegas, but these two make it look fun. Maybe I've been misjudging this place all along. In any case, I'm definitely going to spend more time than I probably should watching them renovate and re-sell homes all over Las Vegas.
Check out Romper's new video series, Romper's Doula Diaries:
Watch full episodes of Romper's Doula Diaries on Facebook Watch.