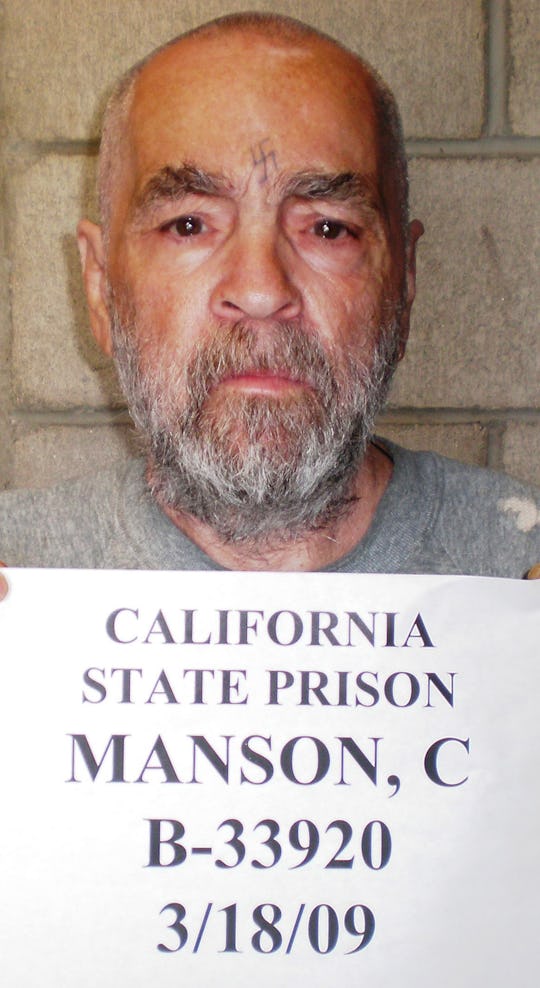 Handout/Getty Images News/Getty Images
Charles Manson's Family Has Grown Over The Years
Charles Manson is best known as the ringleader of the Manson Family cult, which carried out seven murders in Los Angeles in 1969, but he also has a biological family. It's hard to think of Charles Manson's biological kids and everything they must have gone through, knowing that their father is one of the most famous American criminals, ever. But Manson has three children that the public knows about, though he's always been vague about it himself. His followers call themselves his "sons," in fact one spoke on his behalf in January when the 82-year-old was rushed to a Bakersfield, California, hospital from prison.
He also said once in a 1981 interview, "How many children do I have? Uh, I don't know. I've got lots of children, man. Uh, in fact sometimes I even think that you're a child." There are many people that claim they are the "son" of Charles Manson, for whatever reason, believing that their moms might have been involved with Manson during the 1960s.
But his real sons aren't as outspoken. And there are so many people who claim to have a connection with Manson that one writer, Tasha Paradise of LAist.com, has compiled a list of three "confirmed" children and another dozen — a mix of those who claim to be his biological child or just children of women in the "family" that might have been sexually active with Manson.
So here's what we know for (almost) sure.
Charles Manson Jr.
Charles Manson Jr. was born in 1956, a year after Manson married his mother, Rosalie Jean Willis. He renamed himself Jay White and had a son, Jason Freeman, who "came out" to the public as being the grandson of the first Charles Manson, so that other relatives wouldn't live in shame, as he and his father had done. White was estranged from his family and killed himself in 1993. "He just couldn't live it down," his son told CNN.
Charles Luther Manson
In 1959, Manson married Leona Rae "Candy" Stevens in California and divorced her in 1963. Just before the divorce, Stevens gave birth to a son in April. His whereabouts are completely unknown and he likely lives under an assumed identity, like Charles Manson Jr. did.
Valentine Michael Brunner
Michael Brunner was born in 1968 to Mary Brunner, who was actually the first member of the Manson Family. She was never married to Manson, though she was called "Mother Mary" by the Helter Skelter believers. As a child, Michael was sent to live with grandparents in 1970, just after the infamous Tate-LaBianca murders and openly acknowledges that he is the son of Manson, but completely disavows him. He goes by Michael Brunner and has a son of his own. It seems that his grandparents raised him and he had a strained relationship with his mother, but by all accounts leads a regular life.
The story of Charles Manson's life is as confusing as it is terrifying. Which is why whenever you see a headline about a new "Manson child," take it with a grain of salt.