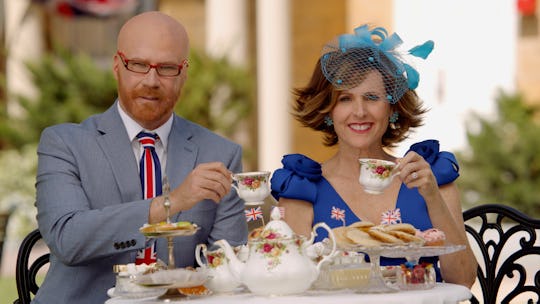 HBO
Cord Hosenbeck & Tish Cattigan Are Your New Favorite Hosts Of The Royal Wedding
After hilariously covering the Rose Bowl Parade for Amazon Studios, the legendary broadcast duo of Cord and Tish is back to tackle the royal wedding for HBO. In production with Funny or Die, the special The Royal Wedding Live with Cord and Tish!, which started airing live on Saturday, May 19 at 7:30 a.m. ET on HBO, is bringing the royal celebration to life. But if you haven't seen the pair in action before, you might be wondering, who are Cord Hosenbeck and Trish Cattigan at the royal wedding, and why do they look so darn familiar?
Believe it or not, they're actually fictional characters, flawlessly played by SNL alumni Will Ferrell and Molly Shannon. Cord Hosenbeck (Ferrell's character) describes himself as "a frequent television and radio host dedicated to physical and mental wellness, who has authored more than 30 books on subjects ranging from diet to dressing for success." Trish Cattigan (Shannon) is a self described "former Miss Arizona, who has written books about relationships, codependency, marriage and wellness, and is also known for her two-episode stint as Assistant D.A. Keller on L.A. Law."
Shannon and Ferrell are undoubtedly two of the best comedic character actors to come out of SNL. They are actually so good at staying in character, that when they hosted the Rose Bowl Parade as a parody, many people didn't even realize the whole thing was an act. Many Amazon users watching the coverage didn't recognize famous comedians, reported Variety, and some even went on to give the broadcast low reviews, without ever realizing it was meant to be satirical comedy. Despite flying over some viewers heads, the Amazon Rose Bowl Parade special still managed to average out it's reviews at about three and a half stars.
Cord and Tish are covering the royal wedding from England, with fellow SNL alumni Tim Meadows, who is hosting as himself. They will be joined by other special guests throughout the special, noted HBO, and are covering the wedding procession, attendees, and celebrations with their iconic poise and grace. In separate statements through the network, both "hosts" described just how excited and happy they are to cover this spectacular and historic event.
Hosenbeck noted, "This wedding is going to be a blast, there will be more luxury packed into that church than all the Bed, Bath & Beyonds combined." Cattigan added, "Every little girl dreams of growing up and marrying a prince! Now I get to be front-row center of this fairy tale romance. I'll be crying all day!"
The Royal Wedding Live With Cord and Tish! is being produced by Ferrell's own production company, Funny or Die, and has been written and executive produced by Andrew Steele and Ferrell himself. Shannon also serves as a producer, along with Funny or Die's Mike Farah and showrunner Bellamie Blackstone. If you miss the initial broadcast, or it's just too early on a Saturday morning, don't worry: HBO will be re-airing the special during primetime, at 9:45 p.m. EST. To get a feel for what's in store, you can check out the official HBO trailers for the live event, one of which includes a hilarious scene of Cord getting stuck in an iconic British phone booth and innocently announcing, "I have stress odor now."
Sometimes really stiff and serious events and broadcasts could use a little comic relief, and the royal wedding is no different. All that proper British etiquette, those fancy hats, and royal air can get stuffy and pretentious, so a little Cord and Tish humor will definitely make the event more fun to watch.