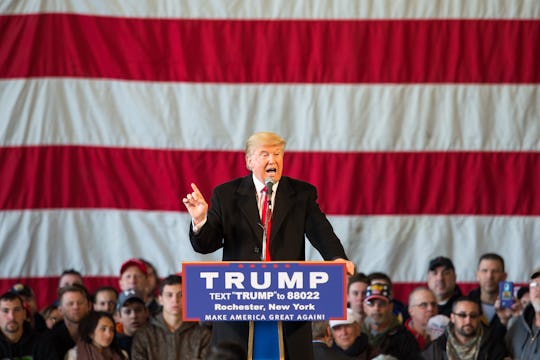 Brett Carlsen/Getty Images News/Getty Images
Who Are Donald Trump's Kids? Two Won't Be Voting For Him In New York
Just in case the Trump family didn't already have the heads of Republican establishment types exploding, Donald Trump just announced that two of his kids, Eric and Ivanka Trump, didn't bother to register to vote as Republicans in New York, so neither will be able to vote for their father in next Tuesday's Republican primary. Who are Donald Trump's kids and why aren't they registered Republicans already?
"They were unaware of the rules and they didn't register in time," Trump told Fox and Friends. "So Eric and Ivanka, I guess, won't be voting. They feel very, very guilty. They feel guilty," Trump continued. "But it's fine. I understand that."
Even though Trump seemed to downplay the apparent oversight, it seems like a pretty big deal that Trump's own adult children — including Ivanka, the daughter he is always bragging about — didn't think voting for their dad was important enough to get registered. And, considering Trump is trying to sell himself as a long-time Republican, is it really that crazy of an expectation that his kids make sure they're registered to vote in the Republican primary? Did they forget to register? Or are they intentionally not voting on a technicality? The whole situation seems really strange to politicians and conspiracy theorists.
Trump has three kids from his first marriage to Ivana: Donald Jr., Eric, and Ivanka. His second wife, Marla Maples, gave birth to Tiffany and Trump's third, and current wife is mother to 9-year-old Barron. There are a total of five Trump children. Starting this week, the Trump campaign will start to introduce the Trump children to the public, starting with a CNN Town Hall on Tuesday, April 12, just a week before the New York Republican Primary.
Donald Trump Jr.
Donald Trump Jr. is the oldest of the Trump offspring and has had a tumultuous relationship with his father, much of the tension stemming from his father's acrimonious divorce from his mother, Ivana. Now Donald Jr. works for his dad and has emerged as an effective surrogate for the Trump campaign. Donald Jr. married Vanessa in 2005 and they have 5 kids.
Ivanka Trump
Ivanka is a 34-year-old former model, businesswoman, and mother — she gave birth just weeks ago to her third baby, Theodore. She's been called the "power behind the Trump Throne" and her father's "most influential adviser." When Trump wants to bring out a showstopper at one of his rallies, it's Ivanka that introduces candidate Trump rather than his wife, Melania. She is impeccably educated, poised, and polished — and will be a more front-and-center surrogate for the Trump campaign in the months ahead, despite her failure to register to vote in the New York primary along with her brother, Eric.
Eric Trump
Eric Trump, 32, the youngest of Trump's children with Ivana, is one of the kids who forgot to register to vote for his dad. He's an executive vice president for his dad's company, focusing on construction. He is also the founder of the Eric Trump Foundation, and owns a vineyard in Virginia, and it called, yep, you guessed it, Trump Winery. He is married to Lara Yunaska.
Tiffany Trump
Tiffany is the 22-year-old daughter of Donald and his second wife, Marla Maples. Tiffany is a good student at her dad's alma mater, the University of Pennsylvania, and, thanks to some sweet family connects, got to intern at Vogue. Tiffany is also pretty prolific on Instagram.
Barron Trump
Barron Trump is just 10 years old and the only son of Donald and his current wife Melania.
Get used to seeing the Trump kids, because we've got a long way left to go until the November elections.