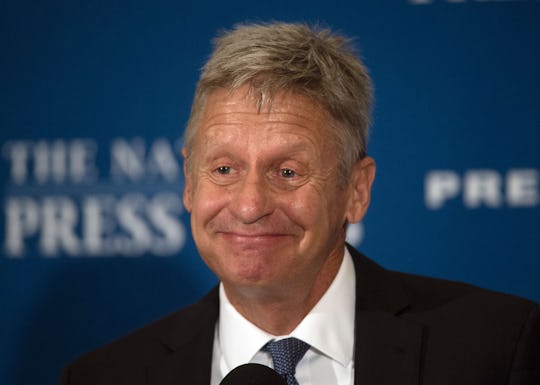 MOLLY RILEY/AFP/Getty Images
Who Are Gary Johnson's Kids? They're Staying Behind The Scenes
While any American could probably pick Chelsea Clinton or Ivanka Trump out of a lineup at this point, not much is known about the families of the third party candidates. When I began researching who Gary Johnson's kids are, it took a while to even confirm that he has kids. He doesn't talk much about them, and they're not even mentioned on his Wikipedia page. But they do exist; they're just not out stumping for their dad every day.
I was able to track down Johnson's son, Erik, on social media. Born in 1982, Erik worked on his father's 2012 presidential campaign (who knew?) before attending the Colorado School of Traditional Chinese Medicine, and then the Institute of Bioenergetic Medicine, which bills itself as a "religious American Indian seminary centered on Indian spiritual healing." They also offer Alchemy classes, which sounds fun. Erik is married, and currently practices acupuncture at The Healing Center in Greenwood Village, Colorado. His Facebook cover photo is a rendering of his father as a Lisa Frank-style jaguar. I'm super bummed that Erik stays out of the public eye, because he seems like a very interesting person who may or may not be able to turn iron into gold.
If information about Erik was hard to find, his sister, Seah, is practically a ghost. From her Facebook page, I learned that she supports marriage equality and she's been to Jordan. Born in 1979, she studied at University of Colorado Boulder, and works as a lighting supervisor for the Aspen Santa Fe Ballet (she's very well-reviewed, too). She climbed Mt. Kenya with her father (Gary has climbed the highest peak of every continent). She's also joined him on hikes up Mounts Everest and Kilimanjaro. Oh, and she's into beekeeping, because of course she is.
Politics aside, Johnson's a pretty interesting guy. Watching his appearance on Full Frontal with Samantha Bee, you can't help but be charmed. And now, it turns out that his kids are actually even more intriguing than he is (the air of mystery certainly doesn't hurt in that regard). One wonders, though, are they intentionally staying out of the spotlight? Erik's social media is pretty open, and he makes no secret of his support for his father's campaign. Perhaps the issue is, similarly to their father's treatment, nobody's really bothered to point the spotlight at them (is that the technical term, Seah?). Third-party candidates are largely ignored because it's basically impossible for them to win, so why bother profiling their families? In the case of the Johnsons, we should bother because they genuinely seem like they'd be fun to get to know. Maybe as a consolation prize, we'll get a reality show one day. I know I'd watch it.