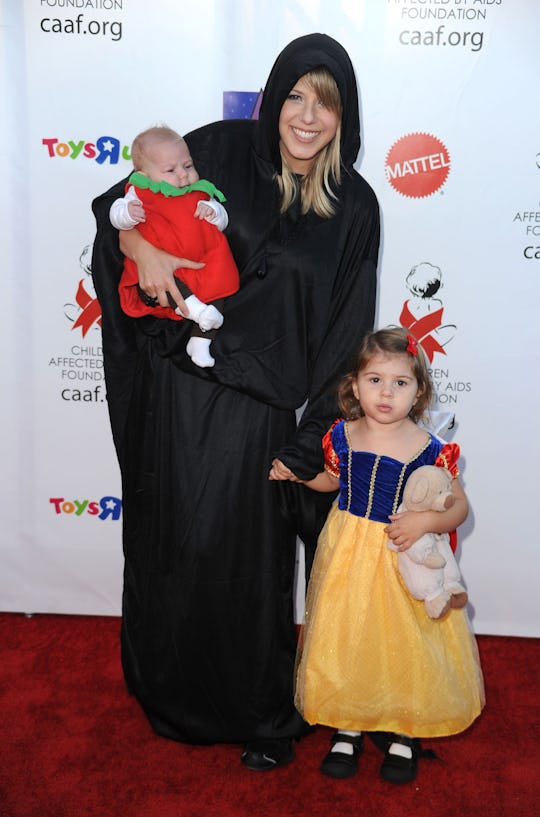 Frazer Harrison/Getty Images Entertainment/Getty Images
Who Are Jodie Sweetin's Kids? They're Pretty Darn Cute
Jodie Sweetin has recently come back into the public eye years after her final line was delivered on Full House, the show that launched her into child stardom. Sweetin played the mischievous and feisty Stephanie Tanner and reprised the part on Netflix's sequel, Fuller House. Her two daughters attended the live-filming of the new show and made a big impression. So, who are Jodie Sweetin's kids?
Sweetin has had a tempestuous romantic history. She's been married three times and divorced three times, all of them marked by messy legal battles. Remarkably, that is not the most dramatic part of her life thus far. After the curtain closed on Full House for the last time, Sweetin's life fell into disarray. In her very candid memoir, unSweetined, Sweetin detailed her battles with addiction, depression, meth and a three-year marriage to a Los Angeles police officer that ended in bitter divorce. But, the book ends on a high note. Her road to recovery was difficult, but she triumphed. That momentous occasion, though, was hardly the end of her troubles.
She married again, this time to a transportation coordinator in the film industry named Cody Herpin. It seems their marriage was difficult from the start. According to People, they struggled financially. Shortly after they were married Herpin stopped working and refused to go back, forcing them to live off of what was left of Sweetin's Full House royalties. The birth of their daughter, Zoie Laurel May Herpin, made things even more difficult and tense between them. When her daughter was just seven months old, Sweetin filed for legal separation. In papers filed in an Orange County, California, court, Sweetin wrote, "Our house is in foreclosure, our water has been shut off twice. Currently, all of our other utilities are overdue." Describing their relationship as rocky seems an understatement.
After they were divorced, Sweetin began dating — and eventually married — Marty Coyle. The two had a daughter, Beatrix Carlin Sweetin-Coyle, when Sweetin was 28. Shortly after, Coyle told People, "Jodie was amazing and is doing great. We are now the proud, excited parents of Miss Beatrix Carlin Sweetin Coyle." But this relationship was also short-lived. After 15 months of marriage, Sweetin filed for legal separation in 2013. Their breakup was marred by swirling rehab rumors and a custody battle over baby Beatrix.
Nowadays, things are looking up. In January, just in time for the Fuller House premier, Sweetin announced she was engaged to boyfriend Justin Hodak. He's very supportive of her getting back into acting, and her daughters are pretty excited about it, too.
According to People, Zoie, 7, and Beatrix, 5, loved seeing their mom on screen. But they especially loved Uncle Jesse. Sweetin said, "My kids are huge Full House fans. Zoie was thrilled to be there. And after the show, she was like tugging on me going, 'Mommy, I want to meet Uncle Jesse.' I was like, you were at Uncle Jesse's house, you were swimming in his pool. She said, 'I was?'" Despite the experiences that followed her stardom, Sweetin seems excited to get her daughters involved in show business. It's no surprise that they seem like naturals.