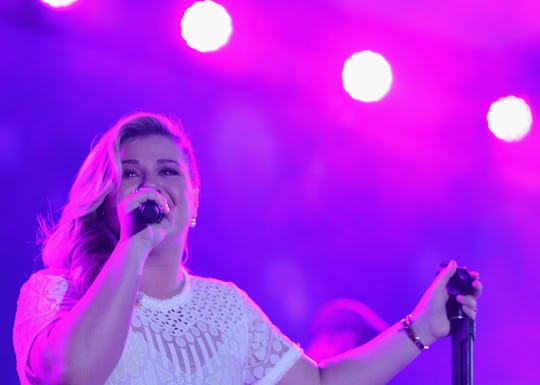 Isaac Brekken/Getty Images Entertainment/Getty Images
Who Are Kelly Clarkson's Songs About? She's Turned Her Pain Into Beautiful Hits
Kelly Clarkson might be a happily married, soon-to-be mother of two, but she's been open about struggling to find love in the past, admitting that she was single for years and that she'd also been cheated on. The outspoken singer (who totally seems like she'd make an amazing celeb mom BFF, let's be honest) has also been upfront about her difficult upbringing and being deeply hurt by her parents' divorce. But, like many other successful musicians (looking at you, T Swift), Clarkson turned that pain into a string of hit songs that have helped solidify her impressive career. Who are Kelly Clarkson's songs about? Looking back through Clarkson's lengthy catalogue, there are a number of standout tracks that clearly meant something particularly personal to the former American Idol, and it's safe to say she definitely had someone specific in mind when she wrote them.
To be fair, Clarkson doesn't write all of her own songs, and in some cases, the stories behind the songs she didn't write are just as intriguing as the ones she did. According to The Hollywood Gossip, Clarkson told Blender in 2007 that writer-producers Max Martin and Lukasz Gottwald (aka Dr. Luke, aka the producer currently embroiled in a high-profile legal battle with Kesha) reportedly blew off Clarkson's self-penned lyrics for "Since U Been Gone" and chose to go instead with the ones they wrote themselves, which left Clarkson feeling like she'd been lied to.
Clarkson also had a highly-publicized feud with producer Ryan Tedder, with whom she co-wrote the hit "Already Gone," after she learned that he'd allegedly sent a similar backing track to Beyoncé when he worked on her hit, "Halo" (Tedder, for his part, denies her claim, and the similarities between the tracks have been debated.)
But, feuds aside, these Clarkson-penned songs clearly came from her own heart — and her own personal experience.