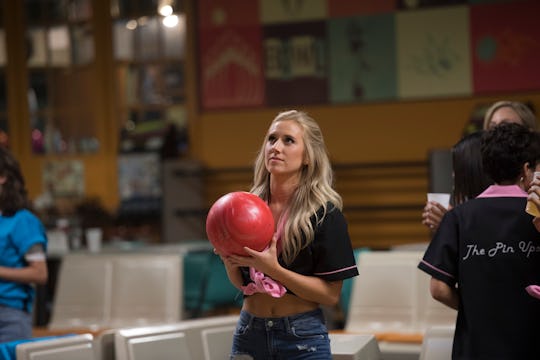 Paul Hebert/ABC
Arie Is About To Meet Lauren B.'s Parents On 'The Bachelor' & It Could Lead To Some Serious Drama
Believe it or not, Monday's episode of The Bachelor is hometown dates. At the beginning of the season there were four Laurens and now only one remains: Lauren B. So now that she's about to bring Arie home, who are Lauren B.'s parents on The Bachelor? Longtime citizens of Bachelor Nation know hometown dates are a huge deal, especially when the lead makes his decision about who he wants to marry.
Arie will visit the hometowns of Lauren B., Tia, Becca, and Kendall in order to meet their families and assess whether they're a good match together. Now in the real world, this process tends to happen after a couple has been dating each other for a significant amount of time. On The Bachelor? It takes place around the one month mark. But Bachelor Nation knows to suspend disbelief for this show, and they do so every year.
According to her ABC biography, Lauren Burnham is a 25-year-old tech salesperson from Virginia Beach, Virginia. There's not much information about her family online — an Instagram photo or two — but what may really stir up drama during Lauren's hometown is her ex. Lauren was engaged to Chris Crane prior to joining The Bachelor. Chris is a professional hockey player for the Toronto Maple Leafs organization. According to his Instagram profile, Chris is also a former student at Ohio State University.
During sneak peeks from this Bachelor season, someone's mystery ex will appear on the show to try and win one of the remaining contestants back. His face has yet to be shown, so it's difficult to say who it is, but considering she was once engaged before and in a very serious relationship, this could definitely end up being Chris. And that would bring the drama, not just because exes always bring the drama on The Bachelor, but because Lauren and Arie have already declared their love for each other on the show.
Some contestants usually say they love the lead at some point, but the lead almost never says it back — at least, not until the winner is chosen. So Arie broke some rules by letting Lauren know that he's starting to fall in love with her. This all will make Lauren's hometown date even more interesting.
Arie wanted to tell Lauren so badly, in fact, that he asked producers' permission if he was allowed to do so, believe it or not. In an interview with PopSugar, Arie discussed why he walked away from his date with Lauren last week. Shortly after Lauren revealed her feelings to him, he paused and then prompted left the table, making many fans confused about what the heck was going on. Did he need to a moment to figure out what he was going to say? Was he being told what to say? Well, it turns out, he wanted to make sure he could reciprocate those feelings and let Lauren know what was in his heart.
"Watching previous seasons, the Bachelor doesn't usually reveal how he feels about somebody," Arie told PopSugar. "I went and asked production, 'Can I tell this person how I feel about them?' And they said, 'Yeah, of course, do whatever you want.' So I did."
Boom goes the dynamite. I wouldn't get the Neil Lane ring ready yet, though. Arie apparently says "I love you" to more than one woman... so Lauren B.'s not the only one who hears it back. Whether it happens during Monday night's hometown dates is uncertain, but I can already tell Arie meeting Lauren's parents — and possibly her ex-fiancé — will surely make for interesting television.
Check out Romper's new video series, Romper's Doula Diaries:
Watch full episodes of Romper's Doula Diaries on Facebook Watch.