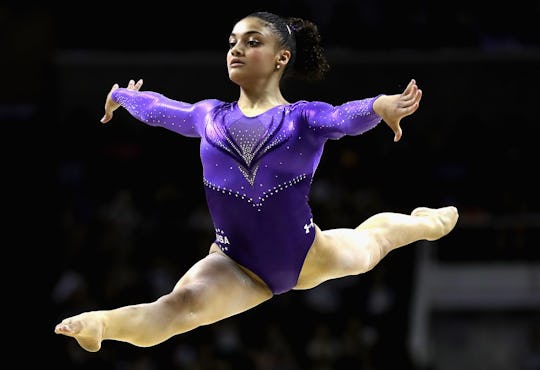 Ronald Martinez/Getty Images Sport/Getty Images
Who Are Laurie Hernandez's Parents? They Are Undoubtedly Proud
If you haven't read up on Laurie Hernandez, it's definitely time to get yourself acquainted before the Olympic Games kick off next week on Aug. 5. At 16 years old, Hernandez is one of the youngest women on the U.S. Olympic women's gymnastic team, and the first U.S-born Latina to make the U.S. team since 1984. She's an incredibly talented athlete, and a fierce competitor, to say the least. So, who are Hernandez's parents? For one thing, they are undoubtedly proud.
In an interview with NBC, Hernandez revealed that her mother, Wanda, and dad, Anthony, are first-generation Americans, to parents from Puerto Rico. Hernandez, a New Jersey native, shared how her mom, who was in the Army Reserve, has served as an inspiration to her:
My mother was in the Army Reserve for six years. She taught me the importance of following rules, finishing what I start, never giving up, leadership skills, teamwork, staying positive, motivated and how to pack the military way when I'm traveling!
According to an interview with Hernandez' coach for The New York Times, Maggie Haney, the 16-year-old's parents enrolled her in group lessons for gymnastics in New Jersey when she was 6 years old. Her father is a court clerk, and her mother is a social worker, The Times reported.
In an interview with Mycentraljersey.com, Wanda said that her daughter's dream had truly become a reality.
"This is a dream she had and a few years later boom," Wanda said. "It's exciting. I'm in awe of the support and love."
Hernandez, who will join her teammates Simone Biles, Aly Raisman, Gabby Douglas, and Madison Kocian to compete in the Olympics, is the youngest of three siblings, she told NBC. Her parents tried Hernandez in dance classes before they realized it was gymnastics that would steal their daughter's heart (and all of us awe-stricken fans watching.) But perhaps it was her early dabble in dance that helped earn her the nickname "Baby Shakira." A NBC article cited Jessica O'Beirne, who apparently first came up with the nickname after witnessing a then 13-year-old Hernandez' energetic floor routine.
"You lit up the whole room," O'Beirne said in an podcast interview with Hernandez, according to NBC. "It was like, when you were on the floor, it was like Beyonce and Michael Jackson and Shakira all showed up at once and started doing gymnastics."
As for her family and Latina heritage, Hernandez is proud and certainly doesn't appear to take it for granted. She told NBC what it means to her to be a Puerto Rican gymnast.
I'm just proud of my heritage. I think it's amazing that I can just go out there and be myself, and the fact that I'm carrying Puerto Rico on my back a little bit, I think that's an honor.
Do your thing, Laurie!