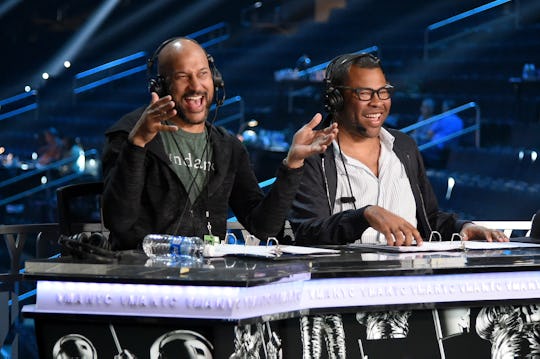 Mike Coppola/Getty Images Entertainment/Getty Images
Who Are Lizard Sheeple & The Shamester At The VMAs? Their Comedy Is Killing It
Though the MTV VMAs are without a solitary host this year, the show has more than made up for it with the presence of Lizard Sheeple and The Shamester. They're two social media moguls with ultra edgy haircuts and a Twitter game anyone would envy. They're going to be here to comment on everything going on during the VMAs, so get used to seeing them. But wait – who are Lizard Sheeple and The Shamester?
Don't be too fooled by their different look: Lizard Sheeple and The Shamester are actually comedy due Keegan-Michael Key and Jordan Peele, according to Vulture. They're departing from their normal personas in favor of a parody so realistic that it would seem like fact if you didn't know better. They've got that over-excited social media star personality on lock, complete with a level of hype that borders on mania as they tweet away every hilarious thought that enters their heads. They've even taken it a step forward. If you want to follow either character as they narrate the night, just head over to either of the Twitter accounts set up for them. Lizard Sheeple and The Shamester are going the extra mile to keep the comedy going tonight.
Key and Peele seem like natural hosts for the VMAs even though they're not really hosting in the traditional sense. The change in format came about for a few reasons. It was partially inspired by the recent Olympics, but it was also a nod to the fact that the show is being held at Madison Square Garden. Executive producer Jesse Ignjatovic explained to Entertainment Weekly that part of the reasoning behind wanting Key and Peele to narrate as though it were a sporting event: Madison Square Garden is a venue known for both sports and music.
"As much as it's famous for music, it's also famous for sports," Ignjatovic said. "We thought it would be great to go out to Key and Peele, who are going to be at a desk covering the show to the camera as you would see at these other events."
With their sketch comedy skills, the unusual approach to covering the awards should be easy as pie for Key and Peele. However, the downside of choosing characters that are irritating on purpose is that things can get grating fast. What was funny at the start of the night unfortunately might end up less than hilarious by the end of the night.
Here's hoping Key and Peele pull it off anyway.