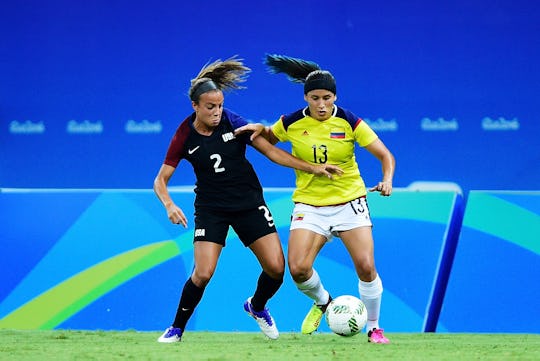 Bruno Zanardo/Getty Images Sport/Getty Images
Who Are Mallory Pugh's Parents? The Soccer Star Comes From A Supportive Family
Mallory Pugh is a name you may not be familiar with, at least not yet. Why? Well, because the 18-year-old soccer player was relatively unknown this time last year. Make no mistake: Mallory had made a name for herself, locally and regionally, and she was well-known in the women's soccer community, but Mallory didn't set foot into the global soccer arena until earlier this year — when Mallory, then 17, played her first game with the United States women's national team. Since then, Mallory has become something of a breakout star; in fact, her soccer skills earned her a coveted spot on the 2016 U.S. Women's Olympic team. But who are Mallory Pugh's parents? It seems Mallory comes from a very supportive and talented family.
Karen and Horace Pugh knew Mallory was something special early on. (They also knew she really loved soccer.) In fact, Horace explained that his daughter's love of the sport began young and, according to Soccer America, 4-year-old Mallory would watch soccer games, broadcast in Spanish, on her 13-inch Hello Kitty TV. By 7, the Highlands Ranch, Colorado native was sitting on the team bench for Real Colorado — her older sister's league and where she would later play herself — watching and absorbing every move. There, as her former Real Colarado Coach Jared Spires explained to Soccer America, her enthusiasm and dedication is what caught his attention:
She would watch the whole game...[and] at 7 years old, you wouldn't expect that. And she loved to be around the team. When we won State Cup, we have video of her running around with the team to salute the parents.
However, Spires — who coached Mallory at U-11 and U-12 — said he soon learned there was so much more to Mallory. He knew she was an extraordinary talent:
Having done this for so long, you think there's potential there. You see special qualities but I don't think there was any way of envisioning she would do it quite like this...she's got unbelievable toughness and unbelievable balance...[and she's] really fast, really explosive.
Spires added:
To me, she's really put herself in a spot to be that next face of U.S. women's soccer I mean she's got great personality. She's also a very good player, which is a requirement. She really connects well with young players, and her game's exciting, so I hope that she can maintain who she is.
But no matter how talented the 18-year-old star was or may be, it seems she remains humble. In fact, according to the New York Post, when Mallory Pugh learned she was named to the Olympic team — on a flight home with her family — she was shocked:
When I first got the call, I was kind of just in shock. I was super-excited just because I knew that all the hard work that I've put in over the past few months...[but]I was like, 'Oh gosh, this is real.'
But instead of turning to mom and dad and sharing her amazing news, Karen recalls Mallory kept calm and kept her cool:
She wasn't trying to act too excited. She was like, 'Well, I'll tell you after the flight,' just jokingly. Then she just put her Beats on, her hood up and slept for the next two hours.
Mallory is the second youngest American player to travel to the Olympics — just one month older than Cindy Parlow, who helped take the U.S. Women's team to gold in 1996.