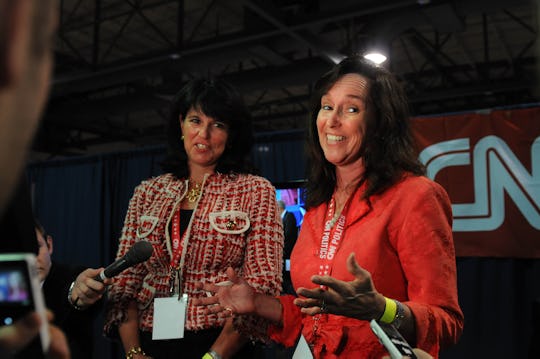 Darren McCollester/Getty Images News/Getty Images
Who Are Newt Gingrich's Kids? His Daughters Have Always Stood By His Side
You may soon be hearing more about Newt Gingrich than you ever expected (or perhaps hoped) to after his failed 2012 presidential bid. Speculation that he could be Donald Trump's vice presidential pick has ramped up following word that Fox News is suspending its contributor agreement with him, on mutual terms. If Gingrich wins the dubious honor of being Trump's VP, his family will be back in the public eye. So who are Newt Gingrich's kids, and how do they feel about his renewed relevance?
Gingrich, who is best known for his divisive tenure as Speaker of the House during Bill Clinton's administration, has been married three times, just like Trump. (Hey, they're perfect together!) He married Jacqueline Battley, his former high school teacher, when he was 19 and she was 26. The couple had two daughters, Kathy Gingrich Lubbers and Jackie Gingrich Cushman, and then divorced while Battley was recovering from cancer surgery. Gingrich did not have children with his two successive wives, both of whom he allegedly began relationships with while still married.
Gingrich has long been a controversial figure, but his now-middle-aged daughters have always stood by his side publicly. Both Lubbers and Cushman have tied themselves to their father professionally while also pursuing their own passions and careers.
According to her LinkedIn page, Lubbers founded and served as the owner of the Carolina Coffee Roasting Company back in the '90s, while her father was busy impeaching President Clinton. But though the company still seems to be in business in North Carolina, Lubbers could not remain a cool coffee lady while her father's fame beckoned. Instead, from 2000 to 2011, she led Gingrich Communications, handling her father's public speaking, television and radio appearances, and book publication. During her father's ill-fated presidential run in 2012, she served as a senior advisor on his campaign, and now she's the President and CEO of Lubbers Enterprises, which guides companies and people to achieve their "highest selves."
Lubbers has also been open about her struggles with rheumatoid arthritis, which she discovered she had in her mid-twenties. She served on the board of the Arthritis Foundation for many years, and has completed multiple marathons to raise funds and awareness for the disease. She was even honored by the foundation as a "Woman on the Move."
Cushman, Gingrich's other daughter, also served as a senior advisor on his presidential campaign. She never owned a coffee company. Instead, she got her start in finance before chucking that to become an author, columnist, and professional speaker. She and her father wrote a book together, 5 Principles for a Successful Life: From our Family to Yours, and on her LinkedIn page, she touts her many media appearances on shows like The View.
Cushman writes a weekly opinion column syndicated by Creator's Syndicate and, yes, she shares many of her father's conservative views. She even wrote a recent column on Trump in which she discussed his "turbulent transition" to the general election and, strangely, compared him to her father without mentioning she was his daughter, saying,
Trump is an extemporaneous speaker, in the same style as Jack Kemp and Newt Gingrich. Trump is not a visionary, like Kemp, nor an historian, like Gingrich, but instead is able to break down information into everyday, average American language.
Though the column was not particularly glowing about the man to whom her father may soon be tying himself, it also didn't condemn him. Since it's pretty clear that Trump doesn't take criticism well, that's probably a good thing for relations within the team that may be coming together.
Trump is expected to announce his VP pick within the next few days. And if Gingrich is on the ticket, it seems likely, based on history, that his daughters will be coming along for the ride.