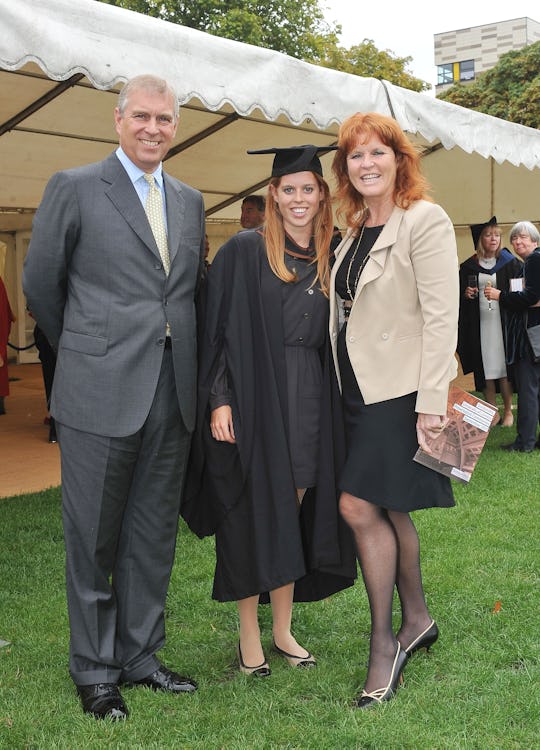 WPA Pool/Getty Images Entertainment/Getty Images
Everything You Need To Know About Princess Eugenie's Parents Ahead Of Her Royal Wedding
When Princess Eugenie walks down the aisle of St. George's Chapel in two weeks to say "I do" to her fiancé, she won't be alone — she'll have her father by her side. Before her big day on Oct. 12, people might want to get familiar with him and another important person in her life: her mom. Thanks to the royal family being in the public eye, it's easy to find out more about who Princess Eugenie's parents are.
Although this generation might not know Princess Eugenie's parents — Prince Andrew and Sarah Ferguson — well, older generations are quite familiar with them, due in part to their very public divorce in 1996, according to Cosmopolitan. But before people learn about that, they should go back to the beginning of where it all started.
Prince Andrew is Queen Elizabeth II's third child and second son, according to Town & Country (think Prince Louis of a past generation) making him seventh in line to inherit the royal throne. Most importantly, he is Princess Eugenie's (and older sister Princess Beatrice's) dad.
Prince Andrew and Ferguson met when they were kids, according to Cosmopolitan, and ran in the same social circles. But, in 1985, the two got "reacquainted" during the Royal Ascot in 1985, and got engaged (and married) one year later in 1986.
Ferguson wasn't just any old "commoner" before marrying into the Royal Family; according to The Washington Post, she came from a well to do family and was linked to royalty in her bloodline, albeit by "thinning blood." At the time of her engagement, royal watchers saw Ferguson as "friendly, self-assured, bright, and engagingly human," according to The Washington Post. The feeling was mutual; during their post-engagement interview, Ferguson said she fell for Prince Andrew because of his "wit and charm."
So, when the couple got married, royal watchers were very excited (kind of like this year's highly anticipated wedding between Prince Harry and Meghan Markle). They married in July 1986 in Westminster Abbey, according to Good Housekeeping, with celebrities like Elton John and first lady Nancy Regan in attendance. An estimated 500 million people all over the world watched the wedding on TV, according to Good Housekeeping — needless to say, this was the TV event of the year.
So, when everything came to a halt when the couple split a few years later in 1992, people were obviously just as interested in their divorce 10 years after their wedding, according to E! News. Ferguson and Prince Andrew split amicably, according to The Sun, although it was plagued by rumors (like most celebrity splits are), according to Cosmopolitan. But even after the couple divorced, they continued to spend a lot of time together — and are now on very good terms, according to The Sun.
They are also on excellent terms with both of their daughters.
Ferguson has a "great deal of control" in her daughter's lives, according to Vanity Fair, and both Eugenie and Beatrice "are said to be in awe of their mother." While Princess Eugenie has called her parents "the best divorced couple I know," according to the BBC.
And that feeling is mutual; in 2016, Prince Andrew released a public statement asking the public to "stop bullying" his daughters, according to People. "As a father, my wish for my daughters is for them to be modern working young women, who happen to be members of the Royal Family, and I am delighted to see them building their careers," Prince Andrew wrote in a statement at the time.
And in 2016, Ferguson could only speak highly of her two girls. Ferguson told People:
They are the most humble people I know, and the Duke and I are lucky to have the most incredible young adults. They speak for themselves and their actions show their commitment and dedication to their grandmother and this country.
Because both parents are this emotional and passionate when talking about their daughters, Princess Eugenie's wedding is pretty much guaranteed to leave someone in tears.
Although all eyes will be on the bride at the wedding, people will definitely be looking to Prince Andrew and Ferguson to see how they act (and react) at Princess Eugenie's upcoming nuptials. But based on everything they've said about their daughters (and vice versa), there will undoubtedly be nothing but love during Princess Eugenie's wedding.