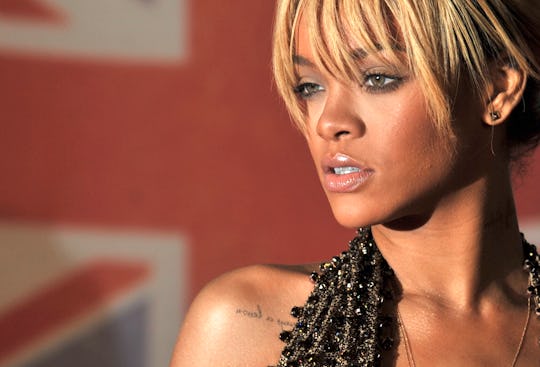 BEN STANSALL/AFP/Getty Images
Who Are Rihanna's Songs About? It's Difficult To Tell
For being such a public persona, with thousands of people following her revealing — at least physically revealing — Instagram feed, and thousands more buying her albums and downloading her songs, Rihanna is something of an enigma. Who is she? What are her songs about? Or, better, who are Rihanna's songs about?
This is a difficult question to answer because, like many pop stars, many Rihanna songs are written by different people, for different people, and certainly about different people (if anyone). Her latest hit, "Work", for example, was written by six different artists: PartyNextDoor, Allen Ritter, Rupert "Sevn" Thomas, Monte Moir, R. Stephenson, and Boi-1da. They all collaborated on the beat and the sampling, then showed it to Drake, who decided he wanted a verse, before they all finally brought Rihanna on the scene to record her vocals. Knowing that, it seems hardly like it can be called a "Rihanna song" at all, but that's how it goes.
The making of the song does bring up an interesting point, though: Drake. Even if her songs are written other people, surely she thinks about her own love life when singing the lyrics? It's hard to say. But, if she is, she just may be thinking about Drake. Since collaborating on her latest album, Anti, the two have been seen together quite a bit, fueling not a few rumors that they are back together again. It's not just that they've been spotted together either, it's that they've been spotted together acting... cozy.
Recently the two visited a sick fan together, who later posted on Instagram about her star encounter. She captioned a photo with Drake, "He was so sweet & down to earth. Gave me and my family some OVO clothing. BEST DAY EVER. NO LIE." If nothing else, Drake and Rihanna appear to get each other. Or, in Drake's words, "That's my dog right there."
Even before that, Entertainment Tonight reported that Drake performed a surprise show for South by Southwest at Fader Fort. When asked to sign a Fader cover, he chose one with Rihanna on it (and drew a heart on her behind). Coincidence? I think not.
Moreover, at a recent show in Miami, Drake and Rihanna took to the stage together and things got, shall we say, intimate? They performed "Work" onstage, but it didn't look much like work at all. If it was, they were working overtime — they continued dancing late into the night, reported People.
That said, in typical Rihanna style, she's not admitting anything. Are any of her songs about Drake? Are they even back together? Not according to Rihanna, who told Vogue, in a recent interview, "My schedule is so crazy right now. It's definitely going to be a challenge when I do decide to pursue a relationship . . . but I have hope!"
Still, while describing the meaning behind "Higher" in that same interview, the songstress explained,
You know he's wrong, and then you get drunk and you're like, "I could forgive him. I could call him. I could make up with him." Just, desperate. We just said, "You know what? Let's just drink some whiskey and record this song."
We did? Clearly, with Rihanna, one has to read between the lines.