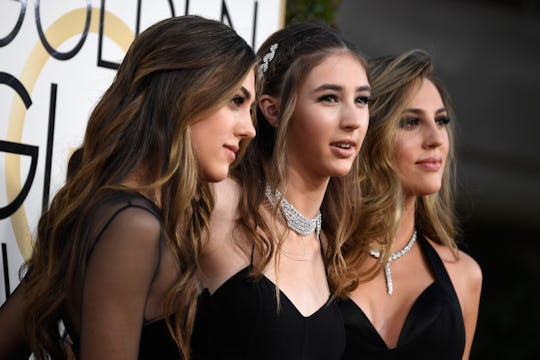 Frazer Harrison/Getty Images Entertainment/Getty Images
The 2017 Miss Golden Globes May Look Familiar
Beautiful women who wear gorgeous gowns are common on any award show red carpet. A rarity, however, is when a group of these women happen to be related. On Sunday night, viewers of the 2017 Golden Globed pre-show saw three sisters — Scarlet, Sistine, and Sophia Stallone — make their way down the red carpet. This made many viewers wonder who are Scarlet, Sistine, and Sophia Stallone and what are they doing at the Golden Globes.
Well, unless you are unaware of Hollywood royalty or lack the ability to use context clues, you can probably figure out that Scarlet, Sistine, and Sophia Stallone are relatives of Sylvester Stallone. More specifically, they are the daughters of the Rocky star and Jennifer Flavin, according to People. Because of their family name, the Stallone sisters are no strangers to the red carpet. In fact, they made an appearance last year when their father was nominated for — and won — Best Supporting Actor in a Motion Picture for his reprisal of Rocky Balboa in Creed.
This year, however, the Stallones are attending the Golden Globes on their own merit. But it won't be all play for the teenagers. According to the official Golden Globs site, Scarlet, Sistine, and Sophia Stallone will serve as the 2017 Miss Golden Globe. Or, in this case, Miss Golden Globes with an "S." When announcing this year's presenters in November, Hollywood Foreign Press Association President Lorenzo Soria explained that the honor is "bestowed upon the son or daughter of celebrated and decorated actors." He also noted that this is the first time multiple individuals would hold the honors, as each Stallone sisters is successful in their own right.
Though the trio have made many appearances on the red carpet, their duties have never gone beyond standing next to dad and smiling for the camera. In order to prep for the role of Miss Golden Globes, the girls turned to an award show pro — dear old dad. In an interview with Us Weekly, the Stallone sisters revealed that dad had been "training" them for the big night.
"My dad has given me the advice to speak loud and clear and have great posture, don't fall," 14-year-old Scarlet said in the interview. "He actually makes me train in heels for an hour every day! He doesn't want me to fall."
Aside from walking tips, the A-list actors told his daughters to enjoy the night.
"Both my mom and dad said to live in this moment, cherish every second while it's happening," 18-year-old Sistine said. "We really do know how amazing this chance is and we took it, and I'm so happy I'm doing it with them."
Aside from their Golden Globe duties, the Stallone sisters have a lot going on. According to Vanity Fair, Scarlett is in middle school and runs track and field. As a 14-year-old, she is not often spotted out and about. But a quick look at Scarlett Stalone's Instagram shows she partakes in the typical teenage activities — shopping and spending time with friends.
Sistine, the middle child in the trio, is an IMG Model and has appeared on the cover of Town & Country and Harper's Bazaar Kazakhstan.
Finally, Vanity Fair noted that 20-year-old Sophia is a communications major at the University of Southern California. According to the publication, she considered acting for a short time but didn't like the long hours.
This may be the first time the world has seen the Stallone sisters without their father, but it probably won't be the last.