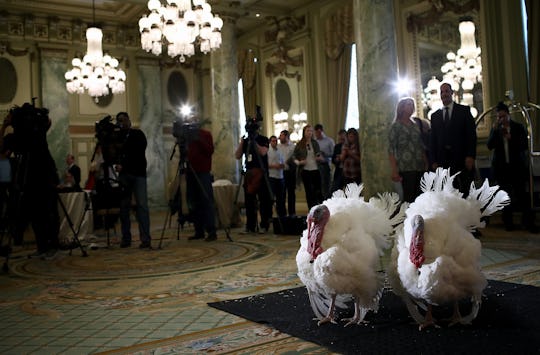 Win McNamee/Getty Images News/Getty Images
Who Are Tater & Tot? The White House Thanksgiving Turkeys Have It Made
On Wednesday, President Obama spoke at the White House about one of the most sacred of holiday traditions: pardoning Tater and Tot. No they aren't rogue White House interns, Tater and Tot are the two White House turkeys, at the mercy of the president. The Iowa-raised male turkeys' fate was left up to Twitter earlier this week, with Americans voting on which one would get away and which one would get, well...you know. Luckily, Obama pardoned both of them, just like he always does, ignoring social media.
The official bios of the two turkeys say that they're both 18 weeks old, but have different tastes. Tater, for example, likes worms as a snack, while Tot prefers tomato slices. Tot is a Justin Timberlake fan and Tater like Meghan Trainor. Tot has a confident "gobble style" and walks with a saunter. Tater is more of a swagger and has a "strong" gobble.
With all of the terrible things in the world, the Turkey Pardon might be the one bright spot. You can say a lot of things about Americans, but they most certainly have a sense of humor.
Of course, Obama was in top form for the pardon. He joked that, for the past eight years, he had enjoyed embarrassing daughters Malia and Sasha with Thanksgiving puns while they joined him in the ceremony. This year, the girls had scheduling conflicts (or so they claimed), so Obama had his two nephews, Austin and Aaron Robinson, by his side. Obama said that, unlike Malia and Sasha, the boys "have not been turned cynical by Washington."
But who could blame his daughters? Ditching the pardon might actually be a sign of intelligence, as Obama brought his A-game with dad-puns. Like saying that he plans on doing the pardon every year, even out of office. "No way I'm cutting this habit cold turkey." What a jokester. And of course, when it comes to the question of whether we have the power to pardon animals at all? "Yes, we cran," the president said. The jokes are so bad and yet, somehow, so very, very good. Hey, after the year we all just had? Everyone could use a cheesy joke to help them recover from the election madness.
I promise, if you pour another glass of wine and say "yes, we cran," every time a relative says something political that you don't agree with, the obligatory family gathering will go so much smoother. (That is not sound medical advice, probably. Don't mix politics and alcohol, ever.)
This years' turkeys were raised by the Domino family in Storm Lake, Iowa, but the turkey pardon tradition is facilitated by the National Turkey Federation (yes, we have a national turkey lobby), so each year the birds come from a different farm.
Fun fact: The White House, from 1873 to 1913, got its official turkeys from a guy in Rhode Island "known as the Poultry King." Seriously, lobbyists ruin everything, because it would be great if the country still had a poultry king. If the president-elect could work that into his "Make America Great Again" plan, that would sure be a good way to start unifying the country.
Just in case you were wondering, the turkeys will be sent to Virginia Tech to live out the rest of their (admittedly short) lives.