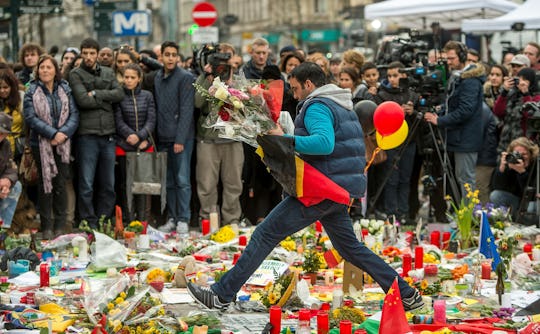 PHILIPPE HUGUEN/AFP/Getty Images
Who Are The American Brussels Victims? All 9 Appear To Have Been At The Airport
The shock and sadness over the Brussels terrorist attacks this week are still being felt across the world, especially by the friends, family, and loved ones of Americans who were living in Brussels. There are a few Americans we know were injured by the blasts and a handful of others who were last known to be at the Brussels airport and haven't been heard from since. Who are the American Brussels victims? Although officials haven't released all the details yet, here's what we know.
There are at least nine Americans injured as a result of the Brussels attacks, all of which appear to have occurred in the explosions at the Brussels airport.
Three of the Americans injured are Mormon missionaries from Utah who were escorting a fellow missionary — a 20-year-old French woman named Fanny Clain — to the airport. Clain wasn't injured as badly as the three men since she had already passed beyond security to head to her flight.
3 American Mormon missionaries
Richard Norby, 66 is in the hospital in a medically induced coma as a result of the "severe trauma" to his lower leg and second-degree burns to his head and neck, according to CBS News.
According to a statement on Facebook from his mom Amber, Joseph Empey, 20, has injuries to his ankles and knee and burns on his hands and face.
Mason Wells, 19 has undergone surgery for a foot injury, his father Chad told ABC News, and also had burns on his face and hands.
Air Force Lt. Col., His Wife & Their Four Children
The family was reported to have been injured by the Brussels airport blast, but the military is not releasing any details about them or their injuries.
Stephanie & Justin Shults
The Nashville, Kentucky, couple were last seen at the Brussels airport where they were dropping off Stephanie's mother Carolyn to fly back to the U.S. Carolyn had been visiting the two, who were working and living in Brussels. Carolyn is fine, but no one has heard from Stephanie or Justin since the explosion.
Sascha & Alexander Pinczowski
The siblings were at the Brussels airport to get on a plane and fly home to New York City, and they were reportedly on the phone with a relative when the bomb went off. The line went dead and neither sibling has been heard from since the blast.
In the meantime officials continue to investigate the terrorist attacks and have launched a manhunt for one of three suspected terrorists who attacked the Brussels airport. Police believe the suspect might have escaped and is still at large.