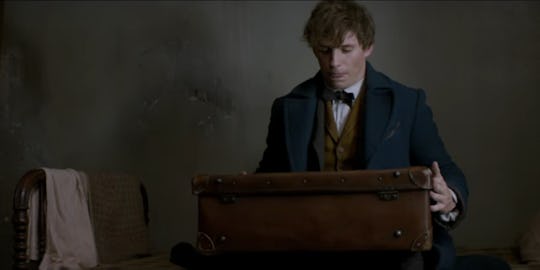 Who Are The Beasts In The 'Fantastic Beasts And Where To Find Them' Trailer?
Unicorns, centaurs, and mermaids, oh my! Now that the trailer for Fantastic Beasts and Where to Find Them is out, fans are speculating about what magical creatures they can expect to see on the screen. The movie is set to premiere on November 18, 2016, but lovers of all things witchcraft and wizardry are eagerly anticipating the end to a soon-to-be five-year gap between movies set in J.K. Rowling's world (Harry Potter and the Deathly Hallows: Part 2 premiered in 2011).
Fantastic Beasts and Where to Find Them is based on a book of the same name published originally in 2001. But unlike Rowling's other works, this is a textbook, not a novel: it serves as an encyclopedia of the extraordinary creatures of the Harry Potter universe and is identified as part of the Hogwarts library collection. The guide is written by Newt Scamander, the character played by Eddie Redmayne in the movie. According to IMDB, other Fantastic Beasts cast members include Ezra Miller, Colin Farrell, Ron Perlman, and Jon Voight. The director is David Yates, the same man behind the last four Harry Potter movies, and J.K. Rowling is credited as writer.
There's no word yet on which beasts are in the film, but here are some favorites from the Harry Potter universe that we hope make the cut.
House-Elves
Dobby showed everyone that a house elf can be a huge hero.
Hippogriffs
In Harry Potter and the Prisoner of Azkaban, Hagrid's hippogriff Buckbeak swoops in to save the day. Part eagle, part horse, the hippogriff is practically made for majestic flight scenes.
Werewolves
Remus Lupin may have been the most lovable werewolf of all, but we're still hoping for a full moon in the new movie.
Dragons
Watching wizards face off with dragons in Goblet of Fire was wildly entertaining, and the Ukrainian Ironbelly at Gringotts played a cool role in Deathly Hallows: Part 2. It would be awesome to see a dragon soar through New York City.
Basilisks
Even if you're not afraid of snakes, the basilisk in the Chamber of Secrets is seriously scary. A basilisk or two in Fantastic Beasts could make for some thrilling action scenes.
Mermaids
Mermaids join the canon of classic magical creatures that get a makeover in the Harry Potter universe. Bring on the centaurs and unicorns, too!
Phoenixes
We'll never forget Fawkes' heroism in Chamber of Secrets.
Owls
Do owls count as fantastic beasts? They're loyal, adorable, and they're ridiculously good at delivering letters. Basically, we just really miss Hedwig.
There are too many fabulous fantastic beasts to list here, but we hope the movie will include as many as possible!
Images: Warner Bros.; Giphy (8)