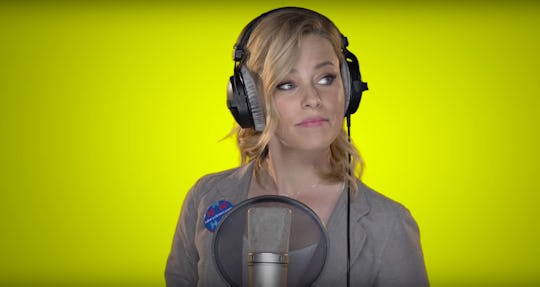 Democratic National Convention/YouTube
Who Are The Celebrities In Elizabeth Banks' Hillary Song? There Are A Lot Of Big Names
In honor of the 2016 Democratic National Convention this week (and the official nomination of Hillary Clinton as the Democratic presidential candidate), actress and producer Elizabeth Banks gathered a number of Clinton's celebrity supporters together and made a Pitch Perfect-inspired video featuring an a cappella version of "Fight Song" by Rachel Platten (one of Clinton's favorite campaign walk-out songs). Who are the celebrities in Elizabeth Banks' Hillary song? The fun clip is filled with famous faces, all of whom are lending their star power to help Clinton's bid for the White House in the election this November.
Banks introduces the song at the outset, saying, "this is for Hillary," before Platten herself starts singing the song's first lines. From there, it seems like each frame features a new face, but according to USA Today, the complete list of celebs featured in the video (listed alphabetically by first name) includes:
Aisha Tyler, Alan Cumming, America Ferrera, Ben Platt, Billy Porter, Chrissie Fit, Connie Britton, Elizabeth Banks, Ellen Greene, Esther Dean, Eva Longoria, Garrett Clayton, Hana Mae Lee, Ian Somerholder, Idina Menzel, Jaime King, Jane Fonda, Jesse Tyler Ferguson, John Michael Higgens, Josh Lucas, Julie Bowen, Kathy Najimy, Kelly Jackle, Kristin Chenoweth, Mandy Moore, Mary McCormack, Mary-Louise Parker, Mike Thompkins, Nikki Read, Rachel Platten, Renee Fleming, Rob Reiner, Shelley Regner, Sia and TR Knight.
The video debuted Tuesday during the convention, the same night when two of the clip's participants, America Ferrera and Eva Longoria, gave speeches on behalf of Clinton, according to TIME. Banks herself also made an appearance on the DNC stage Tuesday night, and, according to Entertainment Weekly, used the opportunity to jokingly compare Republican presidential candidate Donald Trump to Effie Trinket, her Hunger Games character:
Some of you know me from The Hunger Games, in which I play Effie Trinket — a cruel, out-of-touch reality TV star who wears insane wigs while delivering long-winded speeches to a violent dystopia. So when I tuned in to Cleveland last week, I was like, 'Hey! That's my act.'
She also took aim at Trump's controversial entrance at the Republican National Convention, where he came out to Queen's "We Are The Champions" through a cloud of theatrical smoke. Making a similar entrance to the same song herself at the DNC, Banks joked,
I don't usually say this about Donald Trump, but that was over the top. I confirmed it right now. The Trump campaign is so hard up for money, I just bought that fog machine on eBay for thirty bucks. I don't feel good about it.
Clinton, however, wasn't the first Democratic candidate to have a star-studded music video dedicated to them: according to TIME, will.i.am produced an impressive (and much more poignant) clip in 2008 featuring celebrities singing along to a moving speech President Barack Obama gave during the New Hampshire Primary. The video received an NAACP Image Award for Outstanding Song, and featured Scarlett Johansson, John Legend, Herbie Hancock, Kate Walsh, and Kareem Abdul Jabbar, among others.
Although Trump's celeb supporters have yet to express their admiration for him in song, a number of them did come out to speak on his behalf during the RNC — although collectively, they provided much less star power. According to Vox, Duck Dynasty's Willie Robertson, actress Kimberlin Brown, actor Antonio Sabato Jr., and actor and TV producer Scott Baio were part of the RNC speaker lineup (arguably Trump's family members were the real stars of the convention though).
Banks shared the video on her own Facebook page late Tuesday after the convention, where it has already received 5.6 million views, and over 77,000 shares. Wednesday marks day three of the DNC, and will feature President Obama and Vice President Joe Biden as speakers.