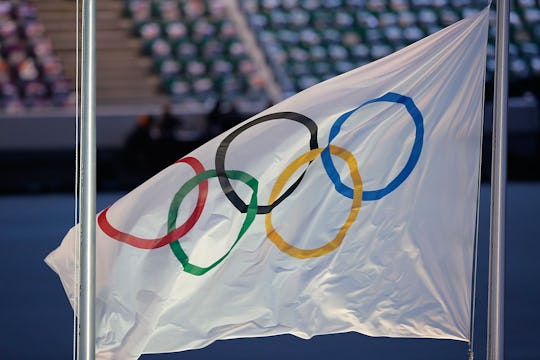 Joe Scarnici/Getty Images Sport/Getty Images
Who Are The Children Singing The Olympic Anthem At Rio's Opening Ceremony?
That moment when the Olympic torch spreads its flame to light the Olympic cauldron is always a time of emotion and triumph. That theme held true this year at the Rio Olympics. Even more moving, this time around, the lighting was accompanied by a rising swell of voices singing the Olympic anthem. So who exactly were the children singing the Olympic anthem at Rio's opening ceremony?
According to Rio2016.com, the games' official website, the 40 children are youth associated with The More Project, a non-governmental organization (NGO) that seeks to "break the cycle of poverty in underserved communities of Brazil." Two years ago, children from a slum in the city of Niterói recorded a video of themselves singing We Are The World by Michael Jackson. The video went viral, and the children were subsequently invited to sing at the 2016 Olympics.
According to a recent NBC article about Rio's slums — called 'favelas' — about 24 percent of the city's population lives in one of the 1,00 favelas dotted across the area. These areas are often governed by local drug lords, and petty crime, drug use, and prostitution are major problems. The More Project is one of many charitable organizations that seeks to work with the children of these impoverished areas.
Dressed in all white and lined up in four rows, the children's confident voices were a fitting accompaniment to the Olympic anthem. As they sang, the Olympic flag — along with the Brazilian flag — was raised.
According to Variety, the Olympic anthem isn't one song, but an amalgamation of two: "Bugler's March," a 1958 anthem by composer Leo Arnaud, and "Olympic Fanfare and Theme," composed by John Williams. Whatever the song's source, its triumphant notes rang in a satisfying conclusion to the opening ceremonies — and the children's voices only served to make the moment that much more moving.