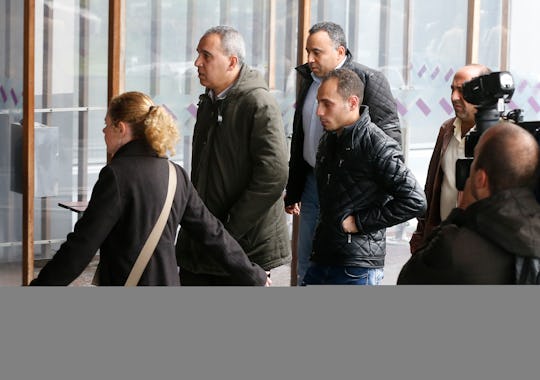 THOMAS SAMSON/AFP/Getty Images
Who Are The EgyptAir Flight MS804 Victims? Their Families Are Waiting For Answers
A total of 66 passengers and crew on board a downed flight are missing and their loved ones are bracing for the worst. EgyptAir Flight MS804 has gone down in the Mediterranean en route from Paris, France, to Cairo, Egypt, and, while details are scarce, families of the passengers have started to gather and wait for more information. Who are the EgyptAir victims? Details are starting to emerge from flight manifests and from heartbroken loved ones.
Family members gathered at the Cairo airport were understandably distraught, and officials, including the French Ambassador to Cairo, were unable to give them any glimmer of good news that their loved ones might have survived, The Telegraph reported.
"They didn't give us any hope," one man with four relatives on board EgyptAir MS804, including his uncle, uncle's wife and their two daughters told The Telegraph. "They told us that the plane fell into the sea." One woman whose daughter on was on the doomed flight started crying and said "Nobody wants to assure us."
And now with rescue efforts are underway, it looks like everyone's worst fears are being realized. Al Arabiya, a television news channel in Saudi Arabia reported that two bodies have been found by rescuers, in addition to other debris believed to be a part of the missing aircraft.
Making matters even worse, an Egyptian aviation minister, along with other officials are now saying it's "more likely" the flight was taken down by terrorists than a random catastrophic failure, although no credible claims from terrorists have been made taking credit for bringing down the plane.
Here are family members of passengers aboard EgyptAir flight MS804 gathering at a hotel in Charles De Gaulle airport in Paris awaiting more information.
Here's the breakdown of the nationalities of the passengers on board MS804, according to EgyptAir. There were no Americans on board.
The world will certainly start to learn more about those lost on EgyptAir MS804 in the days and weeks ahead, including this man's uncle, an economics professor, who he says was on board the doomed fight.
Here's a collage of images shared on Twitter that appears to show several of the victims believed to have been on the EgyptAir flight, including two pilots.
Among the passengers on MS804 were three security officials, what Americans refer to as Air Marshals, which, according to French transportation head Alain Vidalies, was "usual practice," according to NBC News. The abundance of Air Marshals isn't surprising considering the issues with terrorism both France and Egypt have had to grapple with recently. But apparently those security measures fell woefully short.
EgyptAir has established a point of contact for loved ones of passengers aboard the downed airliner.
Now all families can do is wait for news and hope for some miracle. Let's hope their pain is eased somehow in some small way knowing that the world grieves along with them for those who were lost.