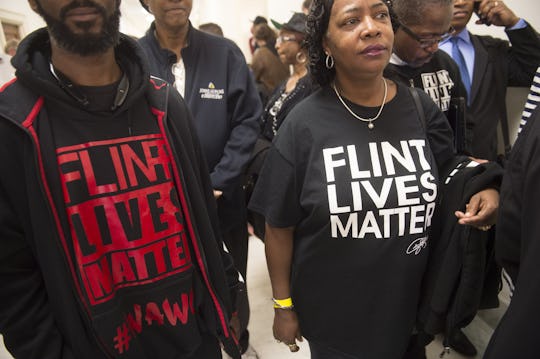 SAUL LOEB/AFP/Getty Images
Who Are The Four New Flint Defendants? The Government Officials Have Been Charged
Flint, Michigan's water crisis persists, as do court proceedings meant to hold officials responsible for allowing the city's water to reach such toxic levels of lead contamination. On Tuesday, an additional four people were charged in connection to the case. Who are the four new Flint defendants, exactly? The government officials charged include two former emergency managers (Darnell Earley and Gerald Ambrose) as well as a public works superintendent (Howard Croft) and a utilities manager (Daugherty Johnson), according to Michigan Attorney General Bill Schuette. All four of the men face felony charges including acting under false pretenses along with conspiracy to commit false pretenses, reports The Washington Post. Additionally, "Earley and Ambrose also face charges of willful neglect of duty and misconduct in office."
According to investigators, the defendants allegedly conspired "to enter into a contract under false pretenses that bound the city to use the river for its drinking water," despite the very fact that "the local water plant was in no condition to properly deliver safe water to residents." Early and Ambrose supposedly insisted on using the plant seeing as the switch would save money. "This fixation [on money] has cost lives. This fixation came at the expense of protecting the health and safety of Flint," Schuette told a Flint news conference. Their priorities also come at a high personal cost; Schuette is charging Early and Ambrose with "multiple, 20-year felonies for their failure to protect the citizens of Flint from health hazards caused by contaminated drinking water." Other allegations against the men include the assertion that Ambrose also "obstructed and hindered a healthcare investigation conducted by the Genesee County Health Department."
Schuette has also claimed that the Michigan Department of Environmental Quality as well as Michigan Department of Health and Human Services employees "committed crimes including misconduct in office, willful neglect of duty, tampering with evidence and conspiracy." 13 people currently face Flint criminal charges in connection to the scandal, with two of the other nine opting to plead guilty. Trials are set to begin in 2017.
Ambrose and Early are the "highest level officials to be charged so far," CNN reports. "The tragedy that we know as the Flint water crisis did not occur by accident, no. Flint was a casualty of arrogance, disdain and a failure of management," Schuette announced at Tuesday's conference. It's Schuette's belief that, in charging these new four defendants, the appropriate perpetrators will be held accountable for just some of the damage that they have caused an entire community.