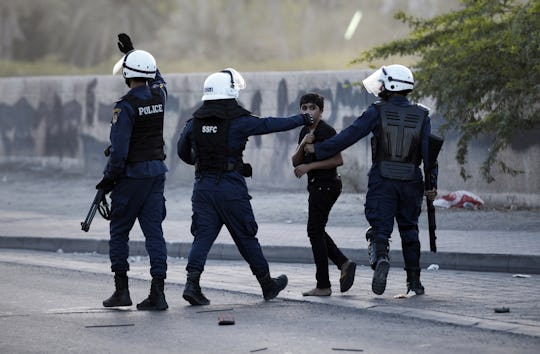 MOHAMMED AL-SHAIKH/AFP/Getty Images
Who Are The Journalists Detained In Bahrain? Only One Of Them Has Been Identified Publicly
Reuters reported on Monday night that four American journalists had been detained in Bahrain. The list of those detained included one journalist and three members of her camera crew. All were initially arrested by Bahraini police on Sunday. Reporters Without Borders have sent messages to the country's leaders to release the American citizens without harm since that time and the State Department has acknowledged it is aware of the situation. But who are the journalists detained in Bahrain, and what have their friends and family said?
The public hasn't been given much info on the three cameramen yet, but most are now aware that the independent journalist Anna Theresa Day was among those arrested, thanks to a press statement released to the media from Day's family. The statement explained,
The four are experienced journalists, having most recently worked on virtual reality documentary filmmaking in Egypt and Gaza, and we hope the Bahraini authorities will release them rapidly and without harm.
Award-winning American journalist Day has lived and worked across the Middle East, and apparently had been in Bahrain reporting on the fifth anniversary of a uprising in the area that was put down brutally by authorities. Reuters reported the Bahrain's interior ministry said in a statement the four were "suspected of offenses including entering Bahrain illegally having submitted false information to border stuff, and participating in an unlawful gathering."
But who is Day? The Fulbright scholar and freelance journalist's work has been included in publications such as The New York Times, CNN, Al Jazeera English, Daily Beast, CBS, Huffington Post, and numerous print outlets, translated into Arabic, English, Hebrew and Spanish. Already, the public is taking note of her disappearance, including Day's friends, with #Journalismisnotacrime trending on Twitter at press time.
No mention has been made to the identity of the three camera crew members yet, but it was reported Monday evening by International Business Times that Day was expected to see a judge on Tuesday.