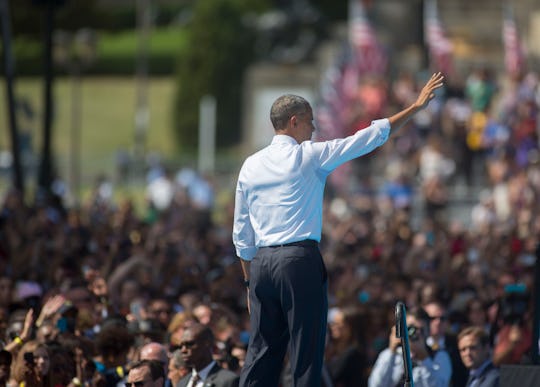 Jessica Kourkounis/Getty Images News/Getty Images
Who Are The Kids Suing President Obama? They're Fighting For Action On Climate Change
They say everyone has an opinion when it comes to politics — and this election cycle is certainly proof of that — but a group of 21 children ranging in age from 8 to 19 years old don't just have opinions, they're actually taking the government to court (yes, you read that correctly). Who are the kids suing President Obama? According to CNN, the almost two-dozen plaintiffs have come together with former NASA climate scientist Dr. James Hansen and Oregon-based organization Our Children's Trust, to mount a federal court case against the U.S. government, suing the Obama administration for what it considers to be its failure to act to fight the effects of climate change.
The children involved, represented by lawyer and mother Julia Olson, are arguing that the government isn't considering the fact that the people who will be left to actually live in a world damaged by climate change will be those who aren't currently old enough to get a vote or a political say. And that, they argue, is an unacceptable violation of their constitutional rights. White House spokespersons did not immediately responded to Romper's request for comment on the suit.
As unorthodox and "out there" as the lawsuit sounds at first blush, it definitely isn't symbolic or just for show. The current suit was first filed in 2015, and in April, attempts to dismiss the suit were denied by U.S. Magistrate Judge Thomas Coffin, meaning that it was allowed to continue in earnest. According to CNN, Olson and the children involved in the case returned to court Tuesday — as did the U.S. Department of Justice and representatives from the fossil fuel industry — to present oral arguments to U.S. District Judge Ann Aiken. A decision is expected within the next 60 days.
What possessed these kids to try and fight the government and save the environment, even though many of them aren't even old enough to drive? They are passionate activists. Xiuhtezcatl Martinez is a 15-year-old from Boulder, Colorado, and is an "indigenous, environmental, eco hip-hop artist," according to MSNBC. In July 2015, Martinez was featured in Rolling Stone after giving a speech at a United Nations event about climate change, and he spoke to the magazine about what he thinks environmental protection should really look like:
We don't have to all stop using fossil fuels entirely and go live in the woods. That's not what this is at all about. It's about understanding — seeing — that the way we're interacting with the world is destroying the planet. We see the Earth as something we can use, something we can take from — cut down the last forest, fish the last big fish in the ocean. There's a disconnect between the problem and the cause, because we don't want to admit to ourselves that we have created this catastrophe. To make that connection is tough. That's asking people to change the way they think. Which is tougher than asking people to change their light bulbs.
The youngest plaintiff named in the case is 8-year-old Florida boy Levi Draheim, who has argued that, in his still-young life, climate change has already turned what was once his pristine island hometown of Indialantic, into something else entirely. According to MSNBC, Draheim said that drought, heat, and the threat of serious storms have become a regular part of life now, and that a rotting seaweed tide is more or less a permanent fixture on the shores, leaving behind a rotten egg smell. The suit also alleges that certain areas for swimming have also become completely unsafe where Draheim lives, "due to an increase in flesh-eating bacteria" found in the water caused by climate change.
The stories of the 19 other children are similar: 19-year-old Alex Loznak lives on a farm in Oregon that has been in his family for generations, according to CNN, but it's now being threatened by drought stemming from global warming. 19-year-old Tia Hatton said she "was late knowing about climate change," but realized something was up in high school when she was unable to continue skiing because of low snow levels in her home state of Oregon. 13-year-old Jayden Foytlin watched as her Louisiana home was damaged by floods linked to climate change, while 15-year-old Jamie Lynn Butler and her family had to leave their home on a Navajo reservation due to drought conditions so intense, it killed one of their horses. As Butler told CNN, "I don't want the next generation, and this generation, to keep losing things because of how we treat the planet."
It's unclear just what — if anything — will come from the lawsuit. Many legal experts have challenged the notion, after all, that climate change action is a constitutional right. Regardless, the movement is gaining traction, and perhaps more importantly, it's helping to ensure that climate change remains on the agenda, pushing leaders to avoid brushing it by the wayside, because people are paying attention. A Twitter campaign by the group, under the hashtag #KidsvGov has earned support from activists and environmental organizations throughout the world, and even actor Leonardo DiCaprio shared the group's message.
For now though, the legal battle continues, as these incredibly-driven young people continue to fight for change.