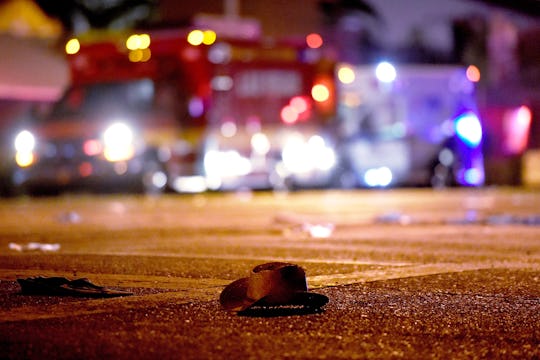 David Becker/Getty Images News/Getty Images
More Than 50 People Have Died In Las Vegas
Just after 10:00 p.m. local time, in Las Vegas on the strip near Mandalay Bay, the deadliest mass shooting in modern United States history occurred. A 64-year-old gunman opened fire on a large crowd enjoying the Route 91 Harvest Music Festival. According to CNN, more than 50 people have died and more than 200 people were injured. Sadly, who are the Las Vegas shooting victims will be a question answered in the hours, and days to come, and the list is devastatingly long. This post will be updated as victims' names are released.
Update: As of 6:30 p.m. on Monday, CNN reported 59 people dead and 527 injured; 18 guns and different explosives and several thousand rounds were found in the shooter's hotel room; authorities' investigation has now also grown to include four different crime scenes. These are the confirmed victims of the Las Vegas shooting so far, according to The Washington Post, CNN, and NPR:
Sonny Melton
Quinton Robbins
Jessica Klymchuk
Jordan McIldoon
Sandra Casey
Charleston Hartfield
Lisa Romero-Muniz
Angela "Angie" Gomez
Adrian Murfitt
Rachael Parker
Susan Smith
Denise Burditus
Neysa Tonks
Bailey Schweitzer
Rhonda LeRocque
Jennifer Irvine
John Phippen
Hannah Ahlers
Heather Alvarado
Thomas Day Jr.
Melissa Ramirez
Jack Beaton
Christiana Duarte
Dorene Anderson
Lisa Patterson
Michelle Vo
Rocio Guillen Rocha
Jenny Parks
Christopher Roybal
Stacee Etcheber
Carrie Barnette
Dana Gardner
Carly Kreibaum
Brennan Lee Stewart
Steve Berger
Cameron Robinson
Bill Wolfe Jr.
Jordyn Rivera
Candice Bowers
Derrick "Bo" Taylor
Kelsey Meadows
Kurt von Tillow
Erick Silva
Calla Medig
Tara Roe
Brian Fraser
Austin Davis
Chris Hazencomb
Laura Shipp
Victor Link
Earlier: While the shooter, and the woman traveling with the shooter, have both been identified, little is known of the individuals who lost their lives late Sunday night. The shooter (who, again, will not be named by this publication) used an illegal automatic weapon to open fire on the crowed of concert-goers, from the safety and security of the 32nd floor of The Mandalay Bay Hotel and Casino, according to CNN.
According to Las Vegas Metropolitan Police Sheriff Joseph Lombardo, the shooter is dead and was a local Las Vegas resident. Authorities are interested in speaking with the shooters companion, Marilou Danley, for follow-up questions, according to The Los Angeles Times. Authorities are also looking for two vehicles as part of their investigation: Hyundai Tucson, Nevada license plate 114B40, and a Chrysler Pacifica, Nevada license plate 19D401.
Family members and friends are concerned about the whereabouts and condition of concertgoers can call 1-866-535-5654, according to Las Vegas Metro Police Sheriff Joseph Lombardo. In the meantime, and as more information becomes available to the public, little is known about the more than 50 victims. Of course, and always, the victims' loved ones deserve space and support at this time.
What is known, however, is what occurred at 10:08 p.m., Las Vegas time. Witness accounts, including disturbing videos, show a terrifying scene, in which automatic weapon fire can be heard in the background as innocent men and women take cover, some people laying on top of their loved ones in order to shield them from the gunfire. Mike Cronk, 48, a retired teacher, told ABC News that the shots sounded like fireworks. "I think there was the first kinda volley, and then all of the sudden second volley. My buddy's like 'I just got hit.' It was pretty much chaotic."
Jason Aldean, the headliner of the concert, was playing on stage at the time of the shooting. Aldean fled the stage seconds after the first shots were fired, and later left an emotional post urging people to "pray for Las Vegas" on his Instagram account.
The Route 91 Festival is a three-day country music festival. There's no age limit associated with the festival, either, so anyone — from a child to an elderly individual — can be found in the crowd, enjoying their favorite country music artists. Every day, for three days, the concert started around 2:00 p.m. and ended around midnight. Sunday night was the last night of the festival, and the festival was, according to the Route 91 Festival website, completely sold out.
As more information is uncovered and released to the public, the names, ages, and stories of the victims will undoubtably become well-known. We will, once again, see the faces of those senselessly lost to unspeakable gun violence, and listen to their loved ones share tear-soaked memories of the lives they're no longer able to live. We will, once again, "debate" gun violence and ask why this continues to happen in what is often touted as the greatest country in the world. We will promise not to forget the more than 50 people who lost their lives while enjoying a country music concert.
This post will be updated as more victims' names are released.
An earlier headline prematurely stated that the post contained the victims' names. We will update the post with their names as they are released. We sincerely regret the error.