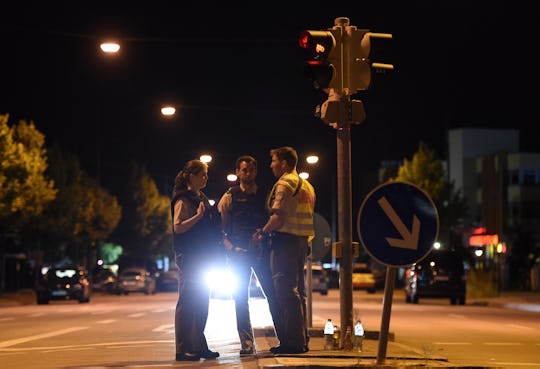 CHRISTOF STACHE/AFP/Getty Images
Who Are The Munich Shooting Victims? 9 Victims Are Confirmed Dead
It is heartbreaking to write this sentence, as there has yet been another tragedy in another country in the world. Earlier in the evening, a shooter opened fire in Munich, Germany at a shopping center. A few hours later, the Associated Press confirmed that nine victims were likely dead in the shooting, along with the shooter. Aside from the details of the shooting the question stands — who are the Munich shooting victims?
While the details surround the Munich victims are still hazy, there is little that the public does know about the Munich attack. As the night goes on and continues to Saturday morning and the specific details emerge from the shooting, the more the world will continue to learn about the victims. But there are a few updates that the police in Munich have shared with the public.
According to CNN, along with the 9 victims of the shooting, 21 people have also been left injured. The shooting occurred at a "busy shopping district" in Munich where a wide variety of people were just trying to go about their everyday lives. According to CNN, "many children were among the casualties" and German Police say that 16 people remain hospitalized.
According to CNN, the mall where gunfire broke out is the "city's biggest shopping center" and a "popular destination for shoppers on Friday nights." This means that anyone could have been there — from young kids looking place to hang out to the elderly looking to enjoy their Friday night. Anyone could have been a victim due to the unsuspecting nature of the mass shooting.
The attack is now being called an act of terror — which it rightfully was. But as the details about the attacker's age, motives, and reasoning for the attack continue to emerge it is very important to remember one thing. There were nine innocent lives taken at the hands of one man and their families are suffering from it.
Before paying attention to the attacker, we must respect the victims — in all aspects. According to The Guardian, German police tweeted out earlier in the night for people to stop posting pictures of the victims on social media. "To all those who publish pictures of victims: stop it! Have respect for the suffering of the families." Rightfully said, German police.
Even though it is natural to be curious about who the victims of the Munich attack were, it is important to respect the families of the victims while the story continues to develop. Once the wounds begin to heal and details emerge, the world will begin to know the names of the innocent lives taken in Munich.