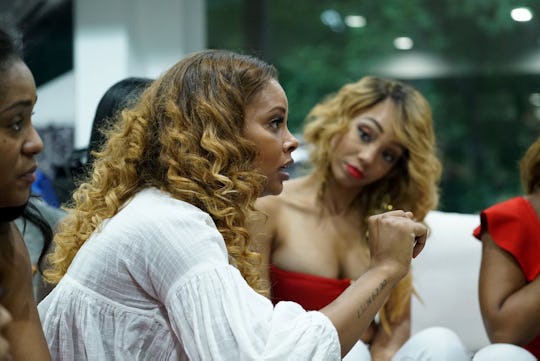 Annette Brown/Bravo
Meet 'Real Housewives Of Atlanta' Season 11's New Housewives
Real Housewives of Atlanta is coming up on its eleventh (!) season premiere, and somehow, the trailer looks just as entertaining as ever. Some high profile departures have been dominating the internet, like that of Kenya Moore. But new cast members are always waiting in the wings for their chance at holding a peach in the opening credits. So who are the new RHOA Housewives? Eva Marcille and Shamari DeVoe make up the new class of freshman.
Of course, Eva has a little experience with the Real Housewives of Atlanta — and a lot of experience on reality TV. The America's Next Top Model Cycle 3 winner appeared on RHOA last season as a "Friend of the Housewives" and even survived the group trip to Barcelona, so she's in pretty good shape to have a strong showing on her first official season. Sometimes freshman Housewives can get eaten alive by the process and there's a pretty lengthy history of women who quit the franchise after just one season on the show. But Eva appears poised to stand up for herself in the right moments, form good alliances, and rise above pettiness. Personally, I have high hopes for her time on the show.
In October, Eva married her boyfriend Michael Sterling, whom viewers first met last season as he was running for mayor of Atlanta. Eventually, he decided to suspend his campaign and endorse candidate Ceasar Mitchell just two weeks before general election. Eva and Michael had their first baby, Michael Sterling, Jr., in April of 2018. According to the Season 11 trailer, fans will get to watch as Eva plans her wedding and I'd be willing to bet Bravo cameras were there to document the lavish affair.
Meanwhile, newcomer Shamari DeVoe comes peeling out the gate in her introduction, proudly declaring that she's the wife of the legendary New Edition singer Ronnie DeVoe. Shamari has throwback R&B roots, too, as the former lead singer of early '00s girl group Blaque. But it's not exactly clear yet whether their common musical background means that she and Kandi will be friends or enemies.
From the looks of the trailer, it seems like she's closest with NeNe Leakes, but NeNe doesn't have a great track record of bringing women who play well with others into the group. Shamari definitely comes in with her dukes up, looking ready to push back against anyone who tries to push her around.
This season finds the women taking a group trip to Tokyo and celebrating Porsha Williams' pregnancy, along with Eva's wedding, but it's not without its fair share of dark turns. NeNe's husband Gregg gets a heartbreaking diagnosis, which, after several years of struggle, seems to finally break NeNe's spirit. Porsha is joyfully pregnant and confident that her boyfriend is faithful because he got a tattoo of her name. (Huh?) But the other women are, uh, skeptical. And, for reasons yet to be revealed, Marlo Hampton is back and yelling on a bus, as is her wont.
Yep, all signs point to a highly entertaining and ~dramatic~ season in Atlanta.