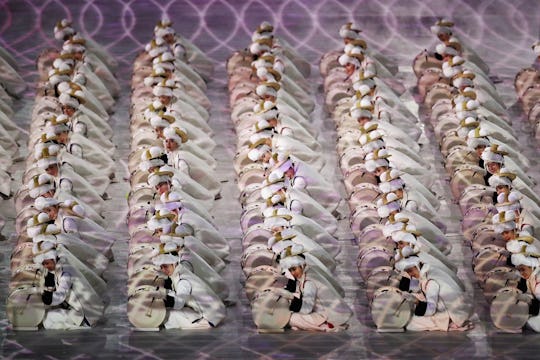 Ronald Martinez/Getty Images Sport/Getty Images
The Opening Ceremony Featured A Group Of All-Women Drummers, & It Was So Badass
Everyone knew we were in for a treat during the Olympics opening ceremony on Friday, but nobody was prepared for the beautiful scene that immediately opened the show, starting with a few cute kids and then a gorgeous drum circle. Everyone wanted to know who are the opening ceremony drummers? The all-women performers definitely sparked some energy in the crowd.
The Olympic opening ceremony was choreographed and directed by Song Seung-whan, best known for his long-running non-verbal musical Nanta. Before the show began it was reported that its theme would be Peace in Motion. People who worked on the production explained that the story would unfold like a magical fairytale, following five children's beautiful winter journey through Korean history and the country's never-ending search for peace. That is quite a theme especially considering the difficult relationship the country has with North Korea, who announced last minute that they would be taking part in the Olympics as well. But in execution, the show was as beautiful as anyone could have hoped, complete with dragons and a light show and dancers and yes, little kids. Also that incredible drum circle which definitely seemed to be made up entirely of women. Ladies, can I join your women only drum circle?
The spectacle started with the adorable little munchkins as promised, who then ran into the stadium and were greeted by enormous white animals, like the aforementioned dragon as well as a giant white tiger in a lovely and colorful display that looked, yes, magical. The dance was accompanied by traditional Korean music, and then the huge drum circle emerged in complementing costumes of white and deep mauve and I am in love with this. American patriotism rarely looks this graceful. I'm just being honest.
The performance began with a large circle of women dressed all in white in the center of the stadium. They were joined by a second set of performers, women drummers wearing the long maroon skirts in a traditional fashion, who performed a gorgeous dance around the drummers in the middle of the stadium. It was a beautiful example of Korean culture that I (and the world in general) really loved. I also loved that all the drummers in the circles appeared to be women. Let's be honest, it's not often that one gets an all-female performance in which nothing is being sexualized. I'm calling it a win for feminism (because I'm a feminism referee in my spare time).
It turns out that the drums as well as the dance accompanying it are called Janggu, and this performance is important to Korean culture. The hourglass shaped drum is usually painted red and features two different types of leather which produce different sounds. The dance which accompanies it is also important, and features specific rules which you can see in the opening ceremony performance. In the dance version, just as is seen here, a group of women tie their hair in a chignon and wear a traditional Korean hanbok, while dancing together in a circle or in open ground.
While the opening drum circle was amazing, if you thought this was going to be the highlight of the Olympic opening ceremony performance, well, you were very much mistaken. PyeongChang pulled out all the stops for its opening ceremony and the results were, predictably, incredible. Honestly at this point I would be happy to live in the imagination of the person who dreamed this entire spectacle up. It is extremely beautiful and magical there.
Check out Romper's new video series, Romper's Doula Diaries:
Watch full episodes of Romper's Doula Diaries on Facebook Watch.