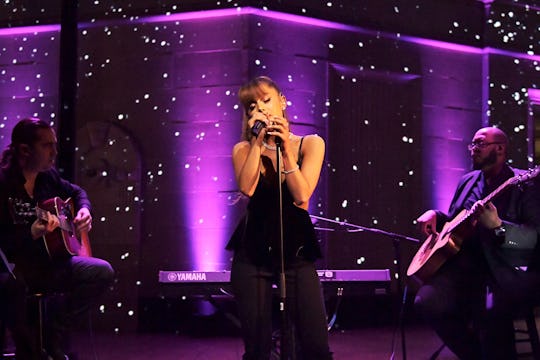 Charley Gallay/Getty Images Entertainment/Getty Images
Parrs Wood High School Steals The One Love Manchester Stage
With a star studded list of performers taking the stage at the One Love Manchester benefit on Sunday, it was surprisingly a group of teenage students that delivered one of the most emotionally poignant moments of the night. The Parrs Wood High School Choir joined Ariana Grande for an emotional performance of her song "My Everything," leaving the 23-year-old pop star in tears. This wasn't the first time the Parrs Wood High School Choir has performed this song before, either.
In the wake of the Manchester bombing, these same Manchester high school students recorded a moving cover of "My Everything" online that went viral. Grande subsequently invited the group of talented students to join her on stage at One Love Manchester.
Not only are the kids in The Parrs Wood High School Choir from the Manchester area, two of the members were actually present at Grande's concert on May 22. After their cover went viral, they were invited to perform on the This Morning television program in England. The students told the hosts about the experience, saying that after the concert ended "the lights came up and we just heard a really loud explosion. I think everyone just assumed the worst — I didn't know what to think. Everybody just ran because obviously you assume the worst."
While the two members of The Parrs Wood High School Choir were unharmed, 22 adults and children tragically lost their lives in the explosions. This attack hit these students extremely close to home and they were motivated to do whatever they could to give back in the wake of the tragedy. "We need to raise funds for those people who were injured and who passed away, because it's just devastating and it's awful," soloist Natasha Seth said on This Morning. "We want to do as much as we can for everyone who was a victim."
According to The Mirror, the students hoped to raise €2,000 for those affected by the bombing. They were able to raise twice that amount within two days of their cover of "My Everything" going viral. They opened a JustGiving page to raise funds, writing that their efforts were "meant as a message of hope, reminding everyone how powerful music can be in bringing communities together in times of need. We hope this is a fitting tribute to all the victims, their friends and families, the people of Manchester and the British spirit which will never be broken."
The students joined Grande on stage to sing "My Everything" one more time on Sunday. It was one of the most inspiring performances of the evening, bringing both Grande and the students to tears. Best of all, the moment highlighted Grande's unwavering message that fear and hate cannot win — and that young people will be the driving force for love behind it all.