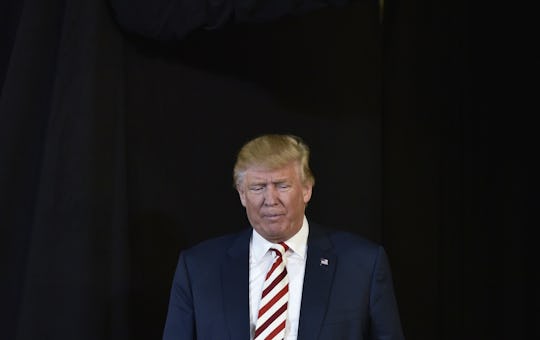 MANDEL NGAN/AFP/Getty Images
Who Are The People Backing Natasha Stoynoff's Story? 6 People Have Supported Her Account
In a recent personal narrative for People magazine, reporter Natasha Stoynoff gave a detailed account of an alleged assault, claiming that Republican presidential nominee Donald Trump forced himself on her during an interview in 2005. Whereas Trump has dismissed Stoynoff's claims as false, tweeting "It did not happen!," multiple friends and colleagues have now corroborated various aspects of Stoynoff's alleged experience. Who are the people backing Natasha Stoynoff's story? Some of them are friends of Stoynoff, others worked with her at the magazine, and all reportedly have been able to clarify what allegedly happened to Stoynoff while she was working on assignment covering the Trumps over a decade ago.
The supporters of Stoynoff's story come from varied backgrounds. Friends Liza Herz and Marina Grasic; People staff members Liz McNeil, Mary Green, and Liza Hamm; and former journalism professor Paul McLaughlin have all bolstered Stoynoff's account in varying degrees. Ranging from affirmations that Stoynoff did, in fact, have a run-in with Melania Trump (the very run-in that Melania has threatened to sue the magazine over), to frank conversations with editors to whom Stoynoff had told about the incident just after the fact, the full story which will be released this Wednesday will serve to erase doubt about Stoynoff's experience.
Details on the six supporters are below, including their relationships to Stoynoff and her story:
Liza Herz
A friend of Stoynoff's from college, Herz claims that Stoynoff and Melania did indeed have the personal encounter that Melania has since disputed. Stoynoff originally asserted:
That winter, I actually bumped into Melania on Fifth Avenue, in front of Trump Tower as she walked into the building, carrying baby Barron.
"Natasha, why don't we see you anymore?" she asked, giving me a hug.
Herz affirmed this meeting to People, remembering: "They chatted in a friendly way... and what struck me most was that Melania was carrying a child and wearing heels."
Marina Grasic
A friend of Stoynoff's for over 25 years, Grasic recounts that Stoynoff called her the day after Donald had allegedly forced himself upon her, sharing details about multiple inappropriate incidents. Grasic recalls Stoynoff's reluctance to share her story at the time, saying:
Beyond just the attack, she was horrified by the vulgar circumstances under which she was attacked and propositioned to have an affair. She was there in a professional capacity, writing an article about their happy marriage, and after the incident Trump acted like nothing happened.
Liz McNeil
After returning from her assignment to cover the Trumps, Stoynoff also told People East Coast Editor McNeil about her encounter with Donald. McNiel said that Stoynoff "was very upset and told me how he shoved her against a wall," recalling: "The thing I remember most was how scared she was. I felt I had to protect her."
Mary Green
Also on the People staff, Deputy East Coast News Editor Green was made aware of Stoynoff when she felt compelled to open up about the abuse. Green remembers:
She was shaky, sitting at her desk, relaying that, "He took me to this other room, and when we stepped inside, he pushed me against a wall and stuck his tongue down my throat. Melania was upstairs and could have walked in at any time."
She talked about her shock, and wondered why it had happened, if she had done anything wrong. I assured her she hadn't. She was also angry that he had forced himself on her, that she was glad someone had interrupted him, because he was surprisingly strong.
Liza Hamm
Another friend and co-worker, Hamm remembers Stoynoff's determination to move past what had transpired: "She told me that she asked to be taken off the Trump beat, but she tried her best to move past the experience and continue to do her job well," Hamm relays.
Paul McLaughlin
As Stoynoff's former journalism professor, McLaughlin admits that, after Stoynoff called him, post-incident, he "advised her not to say anything, because [he] believed Trump would deny it and try to destroy her."
These six supporters help legitimize the sexual abuse allegations that Donald has desperately been trying to dispute and distance himself from. Regardless, Stoynoff remains strong in her stance, assured that she's making the right move. "It's possible he just doesn't remember it," she told People. "It was over 10 years ago and I assume I am one of many, many women."