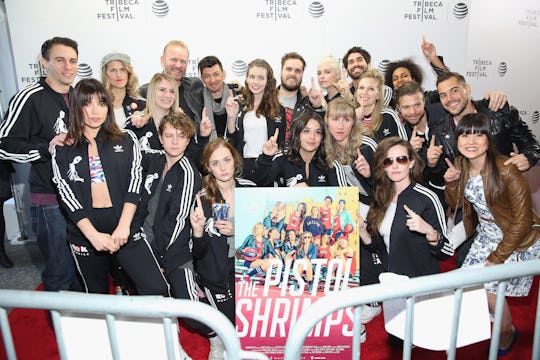 Cindy Ord/Getty Images Entertainment/Getty Images
Who Exactly Are The Pistol Shrimps?
Recreational basketball in Los Angeles, California is a thing. While most people are shooting hoops at their local park or YMCA, the rec b-ball teams in Los Angeles are hosting full seasons -- fall and spring -- and tournaments. Among the LA teams is The Pistol Shrimps, a group of you-know-what kicking ladies (including actress Aubrey Plaza) who went viral for being the best/worst team on the roster. So, who are The Pistol Shrimps?
The answer is simple, but the actual Shrimps themselves are not. The Pistol Shrimps are the most well-known recreational basketball team in Los Angeles, and not just because they've had actresses playing on their team. The Pistol Shrimps gained notoriety for being a group of incredible, sassy, all-around fun women. In fact this team is so cool it's built a following well outside the limits of Los Angeles. Basketball fans (or should we just say Pistol Shrimp fans?) come from all over the world to catch a game, which is pretty impressive for a county recreational team. It's extra impressive that these fans never quite have a guarantee that they are going to spot a celebrity during the game -- they just know being at a Pistol Shrimp game is way cooler than riding a Hollywood Hills tour bus.
Speaking of their international fame, The Pistol Shrimps have been featured in a number of high-profile editorial pieces. While GQ did a feature on the coolest women's basketball team in the world, their teammate, Aubrey Plaza, went on The Tonight Show with Jimmy Fallon to talk about being a Pistol Shrimp and dunking on their haters. To add to that, a documentary about The Pistol Shrimps was released in 2016 after premiering at the famed Tribeca Film Festival in New York City.
While Aubrey Plaza might be the most notable name who has played for The Pistol Shrimps, she is not the only familiar face you may have seen dribbling b-ball outside of school. Actress Angela Trimbur has also played for the team, though you've likely seen her on New Girl, The Good Place, One Mississippi, or in a movie called The Final Girls alongside Nina Dobrev. Trimbur also went viral in 2011 after starring in a video series called "Dance Like No One Is Watching" caught fire on the internet.
Another actress you might recognize is Maria Blasucci. While she hasn't exactly had racked up too many notable roles, she is practically a staple on Comedy Central's Drunk History after appearing in over 40 episodes. That being said, she also appeared in an episode of Another Period, as well as Key and Peele's comedy series.
Last but certainly not least is Molly Hawkey, another actress who liked to dunk on the haters while playing a Pistol Shrimp. According to her IMDb page, Hawkey has been acting since 2004, with roles on shows like Mom, F'd, and Wait Crimes. With so many aspiring actresses making it big with exciting acting gigs, it's safe to assume that The Pistol Shrimps are breaking the seriously outdated mold that suggests up-and-coming talent are only good for waiting tables in between jobs.
While you may not be able to head over to Los Angeles to see The Pistol Shrimps in action, you can still watch them play ball. That's right, The Pistol Shrimps documentary is finally coming to Starz starting on Friday, June 1! This is really exciting news, as now the super talented Pistol Shrimps will likely be getting even more attention than they already were. And there's no denying that it is al very well deserved!