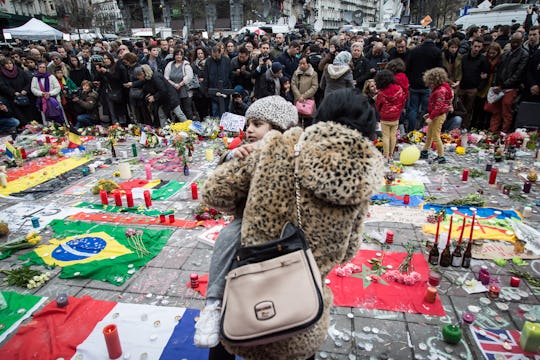 AURORE BELOT/AFP/Getty Images
Who Are The Three Brussels Attackers? Their Names Have Been Released
The ISIS-led terror attacks at an airport and metro station in Brussels Tuesday have left the world reeling, and now authorities are attempting to pick up the pieces and are trying to track down the suspect who is still at large. Who are the three Brussels attackers? According to the New York Times, the two airport suicide bombers have been identified as brothers Khalid el-Bakraoui and Ibrahim el-Bakraoui, while the third, Najim Laachraoui is currently wanted by police. While it was first thought that an arrest made by police early Wednesday was Laachraoui, the report was never confirmed, according to USA Today, and authorities have since said that it was not him. Laachraoui is thought to be the only surviving suspect in Tuesday's attack, but is also thought to have been involved in the Nov. 13 Paris attacks, after his DNA was "found on explosive material," USA Today reported.
The three men were identified from security camera footage, showing the attackers pushing luggage carts at Zaventem airport, where two of the explosions took place, according to TIME. ISIS said that the men carried out the attack by detonating suicide vests, and warned of "dark days" ahead for any country involved in the coalition fighting ISIS, according to the Associated Press.
In a press conference Wednesday, Belgian prosecutor Frederic Van Leeuw told reporters Khalid el-Bakraoui's involvement in the bombing has been confirmed through DNA evidence, according to BBC News. Van Leeuw also said that Laachraoui — the suspect still at large — was carrying a suitcase containing the largest bomb, but that it failed to detonate.
According to the Telegraph, Khalid el-Bakraoui, 27, was already known by the police. He reportedly rented an apartment in Brussels that was raided last week in connection to the Paris attacks, though he used an alias. Mohamed Belkaid, a key suspect in the Paris terror attack, was killed in the raid, though two others got away. It's unclear whether el-Bakraoui was one of them.
But the el-Bakraoui brothers' criminal records reportedly extend beyond their involvement in the Paris attack. According to the Telegraph, Ibrahim el-Bakraoui was sentenced to nine years in prison in October 2010 for firing at a police officer with a Kalashnikov rifle during a robbery.
Khalid el-Bakraoui, similarly, was sentenced to five years probation in February 2011 for car-jackings.
Politicians in France, the UK, and other EU countries are now calling for tighter border restrictions in an attempt to ward off further attacks. According to BBC News, French Prime Minister Manuel Valls told French radio that "there is an urgent need to strengthen the external borders of the European Union," noting that ISIS has "stolen a large number of passports in Syria" that they are using to enter Europe.
Belgian Health Minister Maggie De Block told state media that at least 31 were killed in the attacks in Brussels Tuesday with some 260 wounded, according to Reuters. The death toll is expected to rise however, since the strength of the metro station blast means that some of the victims would not have any remains left to identify.
Belgium is now observing three days of national mourning for the victims, and held a minute of silence at midday, according to BBC News.